SpaceX Deploys 51 Starlink Satellites From Vandenberg
Monday, September 13, 2021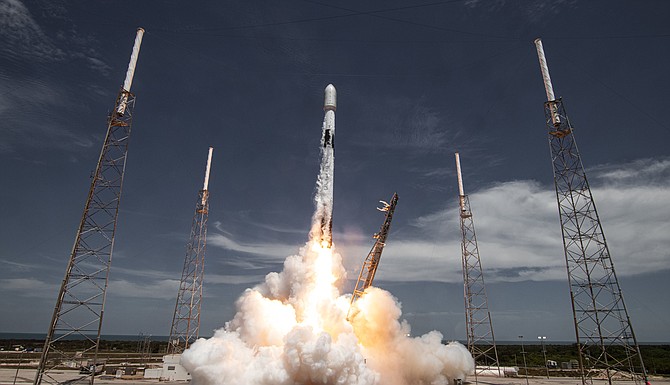 Space Exploration Technologies Corp. completed its first Starlink launch from the West Coast, deploying 51 satellites into low Earth orbit on Sept. 13.

The company's Falcon 9 rocket blasted off from Space Launch Complex 4E at the Vandenberg Space Force Base in Lompoc at 8:55 p.m., and the satellites were deployed about 15 minutes later. The launch adds to the company's constellation of Starlink satellites, which now has more than 1,700 in orbit.
 
The rocket's first and second stages separated around 2 minutes and 30 seconds after liftoff, and the first stage landed on SpaceX's "Of Course I Still Love You" autonomous drone ship. The landing was the Hawthorne-based company's 90th recovery of a first-stage booster.
 
Starlink provides internet connectivity to more than 90,000 customers. But the service is expected to grow as
SpaceX faces a backlog of more than 600,000 orders, according to Mashable. The company aims to increase its Starlink constellation to more than 4,000 satellites by 2024.
 
The Starlink constellation could cost SpaceX up to $30 billion to finish. But the company estimates Starlink could have massive returns, bringing in as much as $30 billion annually once it's completed. That's more than 10 times its revenue from its launch services business.
 
The company is reportedly working to halve the production cost of its Starlink satellite dishes by addressing supply chain issues by the end of 2021. Musk said at the Mobile World Congress 2021 conference held June 29 in Barcelona that each terminal costs more than $1,000 to make. Starlink satellite dishes retail for $499.
For reprint and licensing requests for this article, CLICK HERE.