Spectrum Laboratory Gets Covid-19 Boost
Monday, September 13, 2021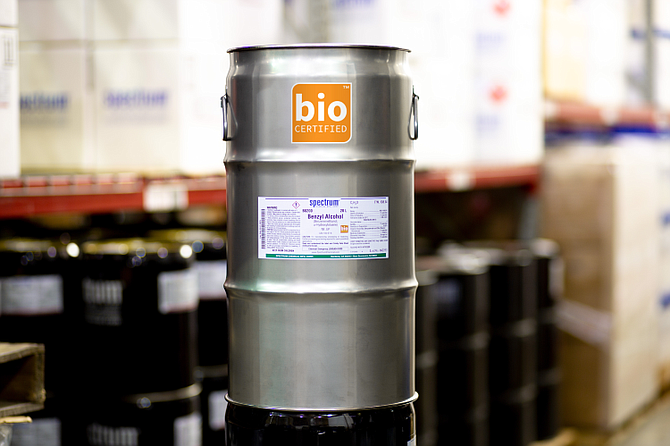 Spectrum Laboratory Products Inc., whose chemicals are used to make Covid-19 vaccines, is bracing for an uptick in production amid concerns that the pandemic is far from over.

"We've got this delta variant right now, and who knows what's going to come after that," said Chief Operating Officer Russell Kneipp. "We see continued strong demand (for vaccines) for those who haven't yet been vaccinated and then booster shots as well."

The privately held company, doing business as Spectrum Chemical Manufacturing Corp., operates production, warehousing and distribution facilities at its 200,000-square-foot campus in Gardena. In addition to making some 45,000 chemicals for active and inactive pharmaceutical ingredients, controlled substances, dietary supplements and cosmetics, the firm also distributes laboratory equipment and supplies. It posted just over $100 million in revenue in 2020, according to Business Journal estimates, and is tracking a 15% growth rate for 2021.

"Last year, we were at about 22% growth," Kneipp said. "We definitely benefited from all of the companies responding to either sanitize or really focus on vaccine development." 
A humble start
Spectrum founder Paul Burg spent World War II in a Jewish ghetto in what's now Ukraine and later studied chemistry in Romania. He immigrated to the United States in 1963 with his wife, Rodica, a chemical engineer. The two started Spectrum as Biochemical Laboratories in 1971.
 
Operating out of their garage in Redondo Beach, they focused on selling lab chemicals after two major industry players withdrew from the field.

"A void was created, and I, being trained in the ghetto, saw this opportunity and capitalized on it," Burg said in a 2004 interview with Chemical & Engineering News.

Spectrum moved to Gardena in the 1980s. It expanded operations in 1991 and moved the company's headquarters to New Jersey, which is home to labs run by some of the world's largest pharmaceutical companies, including Novartis, Merck & Co. Inc., Johnson & Johnson, Bristol-Myers Squibb Co., Novo Nordisk and Bayer Healthcare.

"Most of our leadership team is here (in California), but for pharma and biopharma … to have a presence (on the East Coast) is really important," Kneipp said. "Not only to serve them with deliveries and our labs but also to bring them on site and have strategic discussions as well."

Spectrum has about 100 employees in each location. It also has offices in Shanghai and New Delhi. In addition to the executive team, the Gardena facility is home to chemical manufacturing, analytical laboratories, supply base, as well as customer service, IT, accounting and marketing teams. New Jersey supports similar operations and back-end office functions.  
One-stop shop
About 60% of Spectrum's revenue is derived from the distribution or making of chemicals from raw materials it imports from suppliers, including "very high-purity sugars and salts and amino acids" for the three major vaccine-makers.

"It's kind of like a fermentation process," Kneipp said. "To grow and develop cells you need sugars, you need salts, you need amino acids."
 
Proteins are then extracted when cells get big enough, and after many rounds of processing, get refined into what Kneipp called "the ultimate drug."

Another 20% of Spectrum's revenue comes from distributing lab equipment, including small containers used for research and development such as test tubes, beakers, culture dishes and funnels. PPE and lab instruments — pumps, refrigerators, evaporators, furnaces, purifiers — account for the balance.

"We offer kind of a one-stop shop where we can provide all the PPE, your instruments, as well as your chemicals," Kneipp said.

Spectrum competitors include major industry players Thermo Fisher Scientific, Avantor Inc.'s VWR, Univar Solutions Inc. and Brenntag. The same companies are also Spectrum's customers.

"It doesn't make sense for (VWR) economically to offer everything. When they need something that would be maybe a lower-volume item for them, it's just easier (for them to) to buy it through Spectrum," said Kneipp.
 
The same logic goes for companies such as Thermo Fisher. "They've got a gap in their product offering, and we fit in really nicely for them there," he said.
 
In addition to running day-to-day operations with President and Chief Executive Randy Burg, the son of Paul Burg, Kneipp works closely with customers to understand their forecasts. He then makes sure suppliers' production is ongoing and that it can meet the market 
demands.

"We've got probably a little bit more safety stock today than we would normally carry, but we can't afford to have our customers' production lines go down, especially if they're doing Covid-related products," he said.
Targeting a deal
Kneipp is also fielding weekly calls from investors.
 
"I think we're a diamond in the rough. … In the industries that we play in, there's a tremendous amount of growth for us," said Kneipp, who anticipates the company more than doubling over the next four to five years. "We're not interested in selling, and we're also fortunate enough that we've had a really strong balance sheet."

Spectrum is looking for "a strategic acquisition," he added. "We're in the process of expanding into other product lines, which will require some capital investment."

The deal would be the first for the 50-year-old company and will likely involve a company specializing in biopharma — products manufactured from biological sources — which Spectrum started offering just before the pandemic.

"We launched it in 2019, and we see that growing into a $15 (million) to $20 million product line in the next three to five years," Kneipp said. "There's a lot of organic growth levers for us to focus on, but we still are looking for acquisitions as well."
For reprint and licensing requests for this article, CLICK HERE.