Standard Real Estate Launches With Focuses on Minority Investments
Monday, September 20, 2021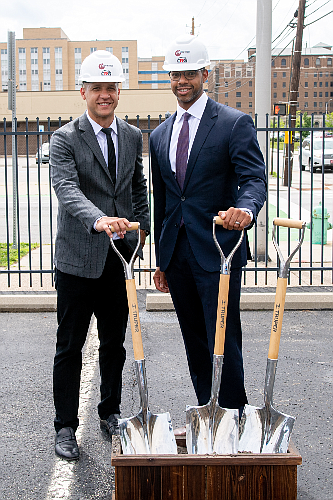 Hollywood-based Standard Real Estate Investments is making an investment in diversity. Founded by real estate veterans Robert Jue and Jerome Nichols, the commercial real estate firm is focused on providing joint venture equity to developers and improving access to capital for women and minority developers.

"Like everybody else during the pandemic, we've been doing some soul searching, and we see good opportunities from an investment perspective," Jue said. "As minority executives ourselves, we thought we could do more to accelerate diversity and inclusion."
 
Though Jue started work on Standard last year, he considers August its official launch date. That's when the commercial real estate firm closed on a majority-equity investment in Wesley Place, a 244-unit multifamily development project in downtown Indianapolis.

It partnered on the deal with Indianapolis-based Arrow Street Development, a minority-owned firm. Once completed, Wesley Place will have 3,000 square feet of retail in addition to apartment units, a pool and courtyard.
 
Standard's goal is to have $200 million of assets under management within a year.

Jue and Nichols were previously with CBRE Global Investors, a division of CBRE Group Inc. Jue was a senior managing director, and Nichols served as a senior director.

Jue said the industry is only 2% managed by nonwhite men, and he saw leaving CBRE and starting Standard as a way to "accelerate change as it relates to the diversity of ownership in the United States."

Increasing access to capital for diverse firms will do that, he added. "The idea that we could do both that and drive strong commercial returns for our clients was a really compelling proposition for us," Jue said.

The firm is looking to invest in real estate projects and manage capital invested in those projects nationwide with a focus on middle-income or workforce housing.

"That's something we think is in short supply despite there being significant demand," Jue said. For the rest of the year, Jue said he is looking at investment opportunities and has "big aspirations" for future growth.

Jue is a California native and said he chose to launch his firm in L.A. since "it's just home." He added that he would "love to figure out how to add more housing stock in Los Angeles," but said there are challenges associated with doing so.

"It is a very difficult question right now because of how expensive it is to build in Los Angeles, how expensive land is and what rents (developers) need to charge to make new development make sense," he said. "I think there's a lot of creative ideas that folks are exploring in the region on how to solve this problem, and we're very interested in finding the one that makes the most sense."

One possible solution he sees is furthering development in previously underserved areas, many of which are minority neighborhoods that "haven't seen as much institutional capital flow as others have."

The company is looking to correct that by investing in more minority and women-led developments.
For reprint and licensing requests for this article, CLICK HERE.