Skechers Hits Company Record With Revenue Up 24% Over Previous Year
Friday, February 4, 2022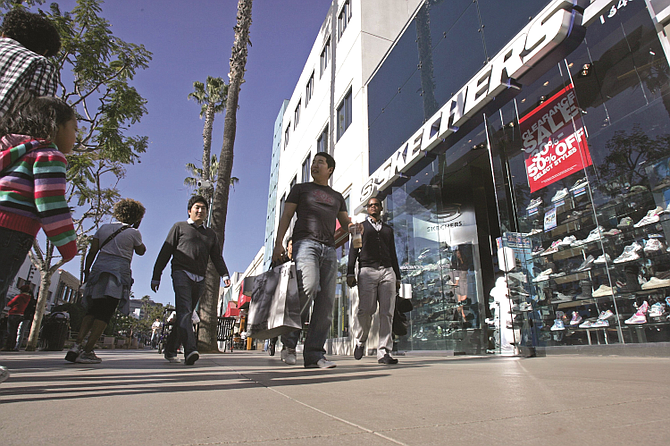 Footwear and apparel manufacturer Skechers USA Inc. reported fourth-quarter sales that beat Wall Street expectations and boosted its shares nearly 10% in after-hours trading on Feb. 3.
The Manhattan Beach-based company said its revenue for the quarter totaled $1.65 billion, a 24.4% increase over the same period in 2020. Net income added up to $402.4 million or $2.56 per share, which includes a "tax benefit of $346.8 million resulting from an intra-entity transfer of certain intellectual property rights," according to the company. Adjusted net earnings were 43 cents per share.
Earnings outpaced analyst anticipations of net income of 33 cents per share on $1.55 billion in revenue for the quarter.
Skechers' full-year net revenue was $6.28 billion, a 36.7% increase compared to 2020 and a new record. Net earnings for 2021 added up to $741.5 million, or $4.73 per share, excluding the fourth-quarter tax benefit.
Skechers' domestic and international wholesale business posted gains in the fourth quarter of 4.6% and 30.1%, respectively. Direct-to-consumer sales grew 30.3%, "driven by a double-digit increase in average selling price resulting from reduced promotions and higher prices," according to Skechers.
Chief Executive Robert Greenberg said Skechers' focus on comfort technology increased sales.
"In 2022, we'll be introducing more … product, developing multiplatform marketing campaigns with our growing roster of ambassadors including recently announced Amanda Kloots, and rolling out more Skechers ecommerce sites around the world," Greenberg said in a statement. "We are finalizing plans to enter the metaverse, creating an entirely new opportunity for the Skechers brand. With our creativity, product, operational support and global reach, we expect 2022 to be another record year." 
For reprint and licensing requests for this article, CLICK HERE.