Airports' Gains in 2021 Show They Still Have a Long Recovery Ahead
Monday, February 7, 2022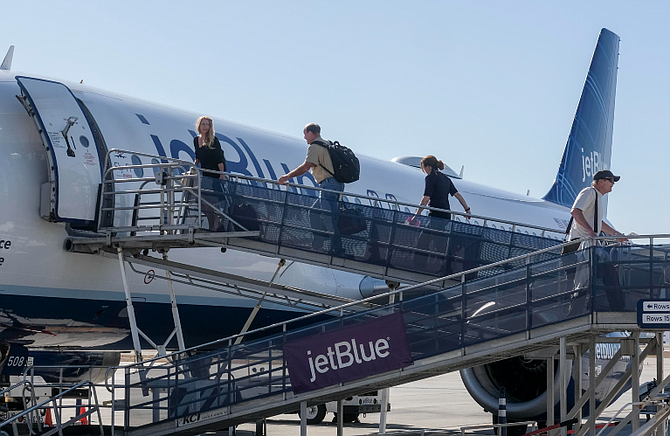 Coming off a year of historic lows for air travel, the four commercial airports serving L.A. County mounted a comeback last year, though they still have quite a way to go to climb back to pre-pandemic travel levels.
After a sluggish start to 2021, the four airports — Los Angeles International, Ontario International, Hollywood Burbank and Long Beach — recorded a total of 58.3 million passengers for the year, up 70% from 2020's 34.4 million but still 43% below 2019's record level of 103 million.
Ontario International came the closest to hitting pre-pandemic levels with a 2021 passenger count down 19.5% versus 2019.
"We saw encouraging signs of recovery in 2021 as demand for air travel neared pre-pandemic levels," Alan Wapner, president of the Ontario International Airport Authority board of commissioners, said in the airport's release on the year-end figures.
One factor in Ontario International's comeback has been shifts in airline flights to the airport because of its lower landing and gate fees, according to Michael Boyd, president of Evergreen, Colo.-based Boyd Group International, an aviation consulting firm. For example, Denver, Colo.-based carrier Frontier Airlines Holdings Inc. moved many of its flights to Ontario in early 2021.
Meanwhile, LAX lagged behind the other airports: Its total of 48 million passengers was down 45.5% from 2019, dragged down by continuing weakness in international air travel. Due to Covid-related travel restrictions in place through much of the year, the airport's international passenger count was down 69% from pre-pandemic 2019.
Boyd said flights to and from China have taken the hardest hit. He said China has severely restricted tourist travel to the United States and that U.S. business executives have been wary of travel to China due to safety considerations.
"The international component facing LAX is the collapse and evaporation of the U.S.-China market," Boyd said. "It is gone and will not be coming back."
But Justin Erbacci, chief executive of Los Angeles World Airports — the city agency that runs LAX — is focusing on the improving trendline throughout last year. And he pointed out that one area in which LAX shone last year was air cargo. The airport posted a 20% gain in air cargo tonnage handled last year compared to 2020 — the only airport to post a cargo gain.
"LAX ended the year with steady increases in returning passenger traffic and a record-setting year for air cargo, both of which strengthen our optimism that the overall recovery in air travel will continue this year," Erbacci said. "We are starting to see the number of international guests slowly increase after federal travel restrictions ended late last year."
Long Beach Airport posted the largest percentage gain in passengers between 2020 and 2021. Its 2.1 million passenger count in 2021 was more than double 2020's total. The airport was hit relatively harder than the other area airports in 2020 because of the complete pullout of once-dominant carrier New York-based JetBlue Airways Corp. in late 2020. Dallas-based Southwest Airlines Co. eventually acquired JetBlue's slots at the airport, but it has taken a while for that carrier to ramp up flights.
With its new prominence at Long Beach, Southwest is now the leading carrier at the three smaller airports serving the county. It slipped one notch in the 2021 airline rankings for combined passenger counts at the four airports, however, primarily because Atlanta-based carrier Delta Air Lines Inc. nearly doubled its passenger count at LAX between 2020 and 2021, leapfrogging over Southwest in the process.
On the cargo front, LAX took the lead last year with a 20% jump in goods handled over 2020 to nearly 3 million tons, thanks in part to increased emergency shipments of Covid vaccines and personal protective equipment. 
Ontario had held that mantle in 2020 as it benefited from the surge in ecommerce deliveries to consumers stuck in their homes during the initial waves of the pandemic. But that record pace could not be sustained in 2021 as cargo tonnage dipped nearly 4%. Ontario's 890,000 tons of cargo handled last year, however, was still up 13% from pre-pandemic 2019.
For reprint and licensing requests for this article, CLICK HERE.