Angel City Football Club Ticket, Merchandise Sales Up Ahead of Team Debut
Monday, February 7, 2022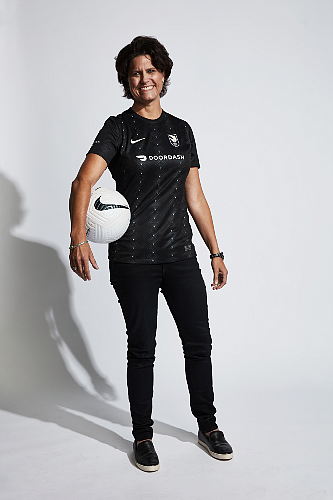 Angel City Football Club has sold more than 14,000 season tickets for the upcoming National Women's Soccer League season. It has also sold more than $1 million dollars' worth of merchandise — much of it bearing its popular logo — has a loyal collection of supporter groups and is the subject of its own podcast.
All of that might already sound impressive, but Angel City has done that, and more, without ever playing a single game — yet.
In fact, Angel City FC held its first official practice Feb. 1 and will play its first preseason game in March. The team, whose first player was L.A. native and U.S. Women's National Soccer Team star Christen Press, will begin its inaugural regular season in late April, playing its home games at Banc of California Stadium, which is also home to Major League Soccer's Los Angeles Football Club.
Julie Uhrman, an entrepreneur and former executive at Lions Gate Entertainment Inc. as well as at video game console company Ouya Inc., is one of the team's three co-founding owners, along with Upfront Ventures executive Kara Nortman and Oscar-winning actress Natalie Portman. Uhrman is also club president and, as such, was asked to attend that first practice, something she said she was planning on doing "with a box of Kleenex under my arm."
"I'm expected to give a speech, and I can't even get through thinking about it without completely breaking down," she said.
Uhrman, a former college basketball player herself — "I was the one who always wanted to take the last shot" — said her emotions will likely get the better of her because a lot of people figured that a female ownership group with little in the way of sports management experience could not land a team, let alone do it in a spectacular fashion, well ahead of the ownership curve.
Uhrman said the key to the early success has been the club reaching out to create an Angel City community before there was even an Angel City team. Part of that process has involved going out and listening to fans, and part has been pledging to reinvest back into the community 10% of all sponsorship money the club generates.
This approach has led to such community benefits as the distribution of more than 75,000 meals to address food insecurity in the city, an internship program for high school girls as well as the creation of eight school gardens.
Of course, when you're looking to raise your profile, it doesn't hurt that the team has a catchy name, eye-pleasing logo and ownership group that includes such big names as tennis icon Serena Williams — Williams' husband, Alexis Ohanian, co-founder of Reddit Inc., is lead founding investor through his firm Initialized Capital — soccer star Mia Hamm and actors Jessica Chastain and Uzo Aduba. 
Uhrman spoke to the Business Journal about that first practice, this first season and the challenges of creating a global brand when you're fighting for space in a highly successful, crowded sports market.
The L.A. sports market has arguably never been this successful. The city has two of everything — two NBA teams, two NFL, two MLS — and everyone seems to be either building or renaming a stadium or arena these days. What's it like to enter a market so vibrant but so crowded?
You have 11 professional teams if you include USC and UCLA, and it seems like there are championship teams almost every year. The challenge for us is to embrace this diverse community, stake our claim and stand out. We didn't want to be just another team. Being a women's team, arguably, there's more for us to do to build awareness and attention. We felt we had the best ingredients to do so because we have the best players in the world, playing the most popular sport in the world, in the best sports city in the world. So, we put together a team of owners who believe in building something different — an organization where mission and capital can coexist, where we can entertain the world but also have an incredible impact in our community.
On your website is a fan profile of a woman named Amanda who speaks of Angel City — her affinity and connection to it — as if she had been a fan since she was a child. It was like someone talking about the Lakers or Dodgers. How have you created something so quickly that people feel so deeply about?
It's about creating these one-to-one connections. We didn't build Angel City in an office. It was (during) the pandemic, we built this entire organization remotely. We built it with this idea of leading with passion and purpose, having an impact in our community and then going to our community and literally talking to them to find out what was important to them, what's meaningful to them, asking their advice, making them part of the conversation, so they felt as though they are building Angel City with us, which they are.
Have you been surprised by any of that fan input?
I think we were surprised by how much they really care. There was a level of accountability that I think is greater than we anticipated. It's one thing to tell fans what you're doing; it's another to ask them, to actively engage them in a conversation and ultimately feel accountable for how those decisions play out in the community. That's why our head of community sits at the leadership table.
It's not unusual for people who get into sports ownership to be blindsided by how deeply fans feel about the team. Many of them aren't prepared for the passion and constant scrutiny. Do you feel prepared for that?
I've already experienced it as an entrepreneur. I'm used to a lot of no's, used to people being very critical of something I've built — you know, 'It's not good enough,' 'It's not the right way,' whatever. The way we look at it (is) there's no ceiling. No one thought we could launch a professional women's soccer team in Los Angeles, and we did. No one thought we could build a team that has a global brand and global following, and we did. We have sold merchandise and have fans in all 50 states and in 39 countries. We have 25 brand partners and probably have the largest sponsorship revenue of any professional women's team including the WNBA.
And you haven't played a game.
And we haven't played a game. We sold over 10,000 season tickets before we signed our first player, Christen Press. We now have more than 14,000 season ticket holders. People already identify with what we stand for, and that means our audience is only going to grow.
By the way, how'd you come up with the club name?
We have a remarkable relationship with (ad agency) Battery and spent a lot of time with them on the naming. We'd already kind of agreed that if we were going to have a supporters' group, it should probably begin with the name Angel City. And then, we were like, 'Wait a minute, hold on, why can't that be our name?' It was like an epiphany. We love the name Angel City because it's reflective of our city, but it has bigger aspirations, other products and services from this brand. We think that name affords us the opportunity to do that.
What does having a female founding-ownership group mean to you and say to others?
When Kara, Natalie and I thought of building this club, there was no roadmap for us. We really felt we had to build this ourselves. We really felt we were writing the script, showing that anything is really possible. Just because you can't see something, doesn't mean it doesn't exist; it just means you have to be the first to do it. We have the bravery and vision to do so. It just means there are more firsts
ahead of us.
For reprint and licensing requests for this article, CLICK HERE.