Capitol Food Co. Invests in Facility to Grow Production by 50% This Year
Monday, February 7, 2022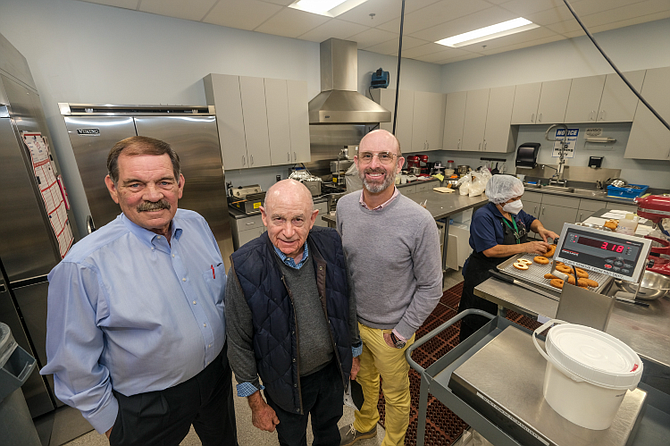 Capitol Food Co., whose local legacy goes back to the late 1800s, is keeping up with the times.
The Cerritos-based maker and distributor of cooking ingredients and baking mixes recently purchased new equipment for its blending and packaging facility in La Mirada. The "significant investment" will help Capitol Food boost its production by about 50% and set it up for future growth, according to John Levi, vice president of operations.
"We're always looking to expand into new markets," Levi said. "That's why we have opened warehouses in other states, and we are continually working on expanding our product base so that we can (serve) all types of companies, from dessert manufacturers to pharma."
The newly installed packing equipment is designed to handle more than 65 million pounds of flour annually and is paired with computerized weighing and automatic dry-blending systems. The facility is also used to repackage liquids, such as edible oils, corn syrups, glycerin and vinegars.
"We transload product from overseas that comes in containers and also rail cars from the Midwest, and we transfer it into tanks and then package it from there," he said.
The company has about 100 employees and generates more than $250 million in annual sales, according to Business Journal estimates. While Levi declined to name clients, he said Capitol Food's customer pool includes locally based companies as well as national food manufacturers — anyone making products found on "the frozen shelfs to the bread aisle." Kroger Co.'s Ralphs grocery chain has been one of those customers for more than 100 years, according to several news reports.
Supply chain solutions
Improving efficiency to ensure on-time deliveries to customers is crucial, especially since Capitol Food has experienced "huge supply chain issues," Levi said.
"Any product imported from overseas is taking three times as long to get here and can be up to tenfold the cost as it was two years ago," he said. "It's forced us to keep more inventory stateside and rely less on the shipping carriers to get us our product in a timely manner."
Some of the products the company imports include starches, grains, seeds, nuts and dried fruits. They are typically not manufactured in the United States, Levi said, and if they are, the supply that is produced is not enough to fill the demand.
Capitol Food also had to increase its prices to offset the uptick in shipping costs.
"In the beginning, it was really difficult but over time, I think that people (understood that) hopefully, there will be some reduction in price eventually but at the moment, we have to pass those freight costs and origin cost to our customers," he said.
And when it comes to seeing some relief for supply chain problems in the near future, Levi is not optimistic.
"I don't see it so far this year," he said. "People thought that maybe by January we would see a decrease in pricing and an increase in availability of product, but the supply chain has not changed. In some cases, it's worse, and it's a very difficult situation. I don't see relief until fourth quarter of 2022."
Family style
Levi's connection to the industry stretches back to his high school days, when he worked at the family's flour mill in Chinatown.
"I did all the all the grunt work," he said. "And then after college, I came to work here and have been here ever since."
Levi's great-grandfather Herman Levi partnered with his uncle Jacob Loew and in 1883 purchased a flour mill that operated as Eagle Mill Company and then Deming Mill Company, city records show.  
Loew and Levi renamed the business Capitol Milling Co., renovated the building, which had been built in 1855, and added a steam engine to power the operations, churning out nearly 30,000 pounds of flour a day. The steam was eventually replaced with electricity, which tripled production to more than 100,000 pounds.
By the time Chicago-based ConAgra Brands Inc. became interested in acquiring Capitol Milling's operations in 1999, the company had abandoned milling in Chinatown and was running a mill in Colton, which had a daily capacity of 1.15 million pounds of flour. The 60,000-square-foot facility was set up on an 11-acre former feed mill owned by Kruse Investment Co., one of Capitol Milling's business partners. The other was Premier Cereals in Bellevue, Wash.
"This was the only major market in which ConAgra did not have a flour mill, so they made an offer that we could not refuse," Levi said.
The family used the proceeds of the sale to set up Capitol Foods with Doug Jensen, then-sales manager of Capitol Milling.
Next course
The La Mirada facility was built by City of Industry-based Winchell's Donut House Inc. in 1973, and Capitol Foods acquired it in 2016. The company also bought its Cerritos headquarters building for about $22 million in 2020. It operates a fleet of tractor-trailers and warehouses in Santa Fe Springs; Long Beach; Tacoma, Wash; Melrose Park, Ill.; Tarboro, N.C.; Morrow, Ga.; Kansas City, Mo.; and Grand Prairie, Texas.
And while Levi is among the fourth generation involved with the family business, the streak will likely continue.
"I have young children and so does the Jensen family, and there's three Jensens working in the business today," he said.
When asked about the challenge of upholding a family legacy, Levi was quick to answer.
"I think it's been easy, as we've always have had our customers' interest at heart and we've always done everything possible to keep them happy and running at all times," he said. "When you have a company with this many employees, you want them to be happy and have a purpose, and I think feeding people and being a part of the food chain is admirable and a good job."
For reprint and licensing requests for this article, CLICK HERE.