Miami-Based Company Buys Whiplash Merchandising for $480 Million
Monday, February 7, 2022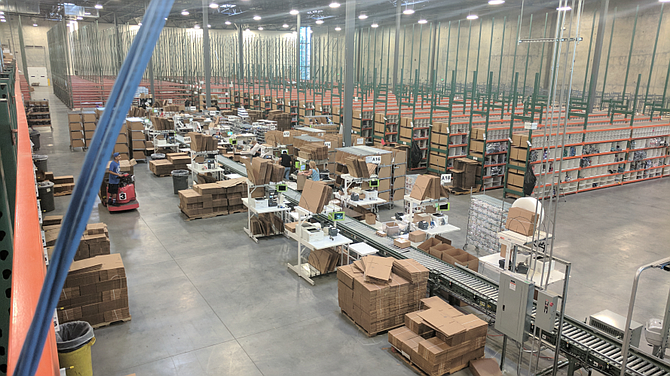 Whiplas
h Merchandising Inc. ended 2021 by trading owners in a $480 million all-cash deal.  
The City of Industry-based provider of fulfillment and logistics services was acquired by Ryder System Inc. based in Miami and will continue operating as its subsidiary.
"This announcement signals a new accelerated phase of growth for Whiplash that will benefit our current customers and dramatically enhance our ability to scale and deliver innovation for digitally native brands and omnichannel retailers," Chief Executive Jeff Wolpov said in a statement. "Ryder's supply chain expertise, facility network and last-mile transportation solutions are a perfect complement to the Whiplash e-ommerce platform, and we're excited to be part of the Ryder team."
Port Logistics Group, doing business as Whiplash, handles warehousing and distribution for some 250 brands, including national apparel and consumer goods retailers, as well as digital native brands such as Santa Monica-based Goop Inc. and Free Fly Apparel. It also provides value-added services — placing clothes on hangers, retagging merchandise for various retail outlets, fulfilling online orders and inventory management — and shipping directly to consumers on behalf of retailers.
The company has some 3,500 full-time and seasonal employees and operates 19 facilities totaling about 7 million square feet near major ports locally as well as in Ohio, Washington, Georgia and New Jersey. Ryder said in a press release it expects to "integrate Whiplash's facilities, operations, technology, and warehouse automation and robotics" into its e-commerce fulfillment processes, and that Whiplash's executive team and workforce will remain on board, "to execute the growth and customer solutions in this segment."
"With ecommerce sales continuing to hit record levels and omnichannel retailing becoming mainstream, we're seeing a significant uptick in brands looking for more dynamic fulfillment services," Ryder President of Global Supply Chain Solutions Steve Sensing said in a statement. "Whiplash has built a proven model that meets today's consumers where, when and how they choose to engage with brands — whether that's online from a mobile device or laptop, in-store or a combination. We expect that our combined customers will benefit from that additional flexibility as well as Ryder's vast nationwide network, extensive technology suite, best-in-class warehouse management practices and end-to-end transportation logistics solutions."
Port Logistics Group was formed in 2008 through a combination of three regional logistics providers. Portland, Ore.-based Endeavour Capital, which has an office in downtown, acquired the company in 2014, and the company rebranded as Whiplash earlier this year.
Ryder said the deal is expected to add "approximately $480 million in gross revenue" to its supply chain solutions business segment this year.
For reprint and licensing requests for this article, CLICK HERE.