Sports Venues Take Competing Approaches to Drive Revenue
Monday, February 7, 2022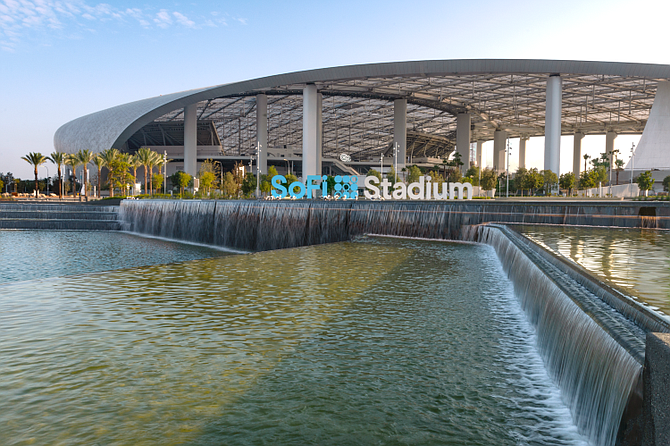 Once upon a time in Los Angeles, when the National Football League wanted to party plan for its championship game, it sought out the L.A. Memorial Coliseum or Pasadena's Rose Bowl. Those national historic landmarks have hosted a combined seven previous Super Bowls, including the first.

But in the short time since its opening in the fall of 2020 amid fluctuating pandemic protocols, the $5-billion-plus SoFi Stadium and Hollywood Park sports and entertainment complex in Inglewood has stepped up as the region's latest and greatest must-use facility for major sporting events. The upcoming Super Bowl LVI — and other marquee dates lined up — are already a testament to its architectural and state-of-the-art allure.

With SoFi Stadium now in play — as well as its soon-to-be-neighbor Intuit Dome, the $1.8 billion project spearheaded by NBA Clippers owner Steve Ballmer scheduled to open in 2024 — how do the already-established L.A. venues up their game and stay viable? Versatility, creativity and availability.  

A prime example of embodying these key business buzzwords is how the Coliseum transformed itself into a NASCAR quarter-mile race track for a one-off event on Feb. 6, installing a $1 million high-performance asphalt track over plywood and sand on top of USC's football field for the season-opening Busch Light Clash.

David Carter, a principal at the Sports Business Group and an associate professor of sports business at USC since 1994, sees that even with a perceived limited inventory of national and local sports events to go around, L.A. landmark stadiums and arenas can stay viable in non-Olympic years.
 
"Most, if not all, venues will have an ongoing role in the sports and entertainment landscape, albeit a shifting one in which they must cater to more targeted or narrow events that fit their facility and their potential customers," Carter said. "The venues have to become and remain nimble, adaptable and compelling — and not just for fans but also for the companies that use sports as backdrop to reach fans and to conduct business development. The Busch Light Clash at the Coliseum is a great example of this adaptation."
 
Coliseum General Manager Joe Furin said the thinking behind deciding to host the NASCAR event was all about its "national-caliber content considering the promotional exposure, as well as the Fox broadcasting coverage that comes with the event," a reference the L.A.-based sports television network.

Maintaining an edge
As dates for rescheduled and new events ramp up again, while mindful of Covid safety protocols, Furin said it isn't just the usual sports-centric sites that come into play but also venues such as the Hollywood Bowl, Greek Theater and Coachella, as well as Angel Stadium and the Honda Center in Anaheim, motivating leaders at all of these facilities to consider expanding their boundaries.

To stay competitive, the Coliseum, Rose Bowl and Dodger Stadium have undergone multimillion-dollar renovation and upgrade projects over the last few years. Crypto.com Arena, formerly known as Staples Center, also does regular multimillion-dollar infrastructure upgrades.

"They are all like homes you have to update to stay current and viable," said Kathy Schloessman, president and chief executive of the Los Angeles Sports & Entertainment Commission, which helps bid on and navigates how major global events come to the area. "All are a for-profit venture business and working hard to appeal to all different audiences."

David Siegel, president of the Los Angeles Sports Council, whose focus is uniting the local sports venues to raise all ships, sizes it up this way: "One of the great things about our city is that every venue is privately owned and funded. We get all these events without needing any public funds to support those efforts."

That said, it cuts both ways, he added.
 
"Every venue is quite competitive for the need to hold events in order to fill its seats and activate its property to drive revenue and stay relevant year-round," Siegel said.  

That relevance can take the form of diverse income streams. Because of the local Hollywood business, all venues can draw income from TV and movie shoots to some extent. Some venues offer paid stadium tours. Private corporate events of all sizes are also lucrative. And the sale of naming rights have become as important as ever — a strategy that began in 1988 when The Forum in Inglewood was rebranded the Great Western Forum after a local bank. 

Team work
"The opportunity we have in front of us as a sports industry moving forward is massive," Siegel said. "The mega events we already have coming, coupled with the volume of professional teams — and what they are already doing in our community — and the annual sporting events make the L.A. region the best sports landscape in the world. If we can accept the challenge to work together and align, we have such a unique opportunity to make a deep and lasting impact on our community that is unprecedented."

As facility managers and event coordinators communicate about plans and available accommodations, there is an opportunity for area leaders to collaborate on meeting diverse needs. And almost every major event over the next several years will serve in some way as practice or a learning experience leading up to the Olympics in 2028.

"Over the next six years Los Angeles will be on the world's stage hosting the largest and most high-profile sporting events," Katie Pandolfo, general manager of Dignity Health Sports Park in Carson, said. "It is incumbent upon all the major venues to pool our resources and work together to ensure the success of these events. We need to be innovative and utilize our venues in new and different ways. The beautiful thing about Los Angeles is the optimistic can-do attitude, which allows us to constantly think outside the box and always push our boundaries."
SOFI STADIUM
Date Opened:
Sept. 8, 2020
Capacity:
70,240
Location:
1001 Stadium Drive, Inglewood (former site of Hollywood Park racetrack)
Venues in the Facility:
A 6,000-seat theater set up for esports and the NFL's West Coast headquarters are included. A movie theater, ballroom, luxury hotel and open-air shopping are to come. The stadium plans to expand past NFL and college football to accommodate international World Cup soccer, the NCAA basketball Final Four and the 2028 Summer Olympics.
Major 2022 Events: 
Following the NFC Conference Championship on Jan. 30 and Super Bowl LVI on Feb. 13, the Los Angeles Rams and Los Angeles Chargers start their third season of home games in September. The Jimmy Kimmel L.A. Bowl is likely to return in December after its inaugural college football bowl game in 2021. Major concerts scheduled include Coldplay (April), Kenny Chesney (July) and Motley Crue with Def Leppard (August).
Top executive: 
Jason Gannon, managing director, Kroenke Group
Highlight:
SoFi Technologies (Social Finance Inc.) signed a 20-year naming rights deal in 2019 at more than $30 million per year, a record for any naming rights venue contract at the time.
LOS ANGELES MEMORIAL COLISEUM
Date Opened: Jan. 5, 1923
Capacity: 77,500 (reduced from 93,000 in 2019)
Location: 3911 S. Figueroa St., Exposition Park
Venues in the Facility: The 17-acre Exposition Park includes Banc of California Stadium as well as museums and gardens. The facility is best known for hosting the 1932 and 1984 Summer Olympics. It has also held motocross, international soccer, as well as several major concerts and other events.
Major 2022 Events: The Busch Light Clash NASCAR event is on Feb. 6; USC has seven of its 12 games at home, starting Sept. 3 (vs. Rice) and ending with Notre Dame on Nov. 26.
Top Executives: Joe Furin, general manager; George L. Pla, president, L.A. Memorial Coliseum Commission
Highlights: United Airlines agreed to a 16-year, $69 million naming rights deal in 2018 and participated in a $315 million renovation from 2018-19. USC took control of the management of the Coliseum in the summer of 2013.
ROSE BOWL
Date Opened: Oct. 28, 1922
Capacity: 88,565 (record is 106,869 for the 1973 Rose Bowl)
Location:  1001 Rose Bowl Drive, Pasadena
Venues in the Facility: The facility hosts football, concerts, temporary attractions, and includes the Brookside Golf Course and an aquatics center. It's best known for hosting the most prestigious college football game on New Year's Day. It has held several college football national championships, five Super Bowls and FIFA World Cup Finals.
Major 2022 Events: The stadium's main tenant, UCLA football, has eight of its 12 total games at home, starting Sept. 3 (vs. Bowling Green) and concluding with its Nov. 19 game against USC.
Top Executive: Darryl Dunn, chief executive and general manager, Rose Bowl Operating Company
Highlights: The Rose Bowl is limited by local law to 15 major events per year. In 2016, the Rose Bowl finished a 10-year-long, $183 million upgrade.
DODGER STADIUM
Date Opened: April 10, 1962
Capacity: 56,000
Location: 1000 Vin Scully Ave., Elysian Park
Venues in the Facility: The baseball park experimented in the 1960s with events such as ski jumping, boxing and auto racing in the parking lot. In the last 20 years, it has hosted concerts, international soccer, motocross racing, cricket, outdoor NHL hockey (Kings vs. Ducks, 2014) and was the starting point of the Los Angeles Marathon.
Major 2022 Events: The MLB All-Star Game, postponed from 2020 because of the pandemic, has been rescheduled for July 19, with the Home Run Derby a day earlier. The Dodgers' regular season runs Mar. 31 to Oct. 2. Elton John's farewell tour is scheduled to stop here Nov. 19-20.
Top Executives: Stan Kasten, team president; Bob Wolfe, executive vice president and chief operating officer
Highlight: The Dodgers invested $100 million in renovations to the stadium starting in 2019..
CRYPTO.COM ARENA
Date Opened:
Oct. 17, 1999
Capacity: 19,079 for basketball; 18,230 for hockey; 21,000 for boxing/wrestling
Location: 1111 S. Figueroa St., downtown
Venues in the Facility: The 950,000 square-foot arena is part of a 4-million-square-foot development that includes L.A. Live and Microsoft Theater. The Grammys have been held there 19 times since 2000. The Summer X Games, Arena Football, professional rodeo, championship boxing, UFC, pro wrestling, world championship figure skating and hundreds of other events have been held there.
Major 2022 Events: The NBA's Lakers and Clippers, as well as the NHL's Kings, finish the 2021-22 season this summer and start the 2022-23 season in the fall. The WNBA Sparks' 18-game home season runs from May to August.
Top Executive: Lee Zeidman, president
Highlight: Staples Center originally signed for naming rights in 1999 for 20 years at $116 million. AEG sold the naming rights to Crypto.com for $700 million in a 20-year deal starting Christmas 2021.
BANC OF CALIFORNIA STADIUM
Date Opened: April 18, 2018
Capacity: 22,000
Location: 3939 S. Figueroa St., Exposition Park (former site of the Los Angeles Memorial Sports Arena)
Venues in the Facility: The soccer-focused stadium also has held boxing, rugby, lacrosse, concerts and esports events.
Major 2022 Events: The fifth season of Major League Soccer's LAFC brings 17 home dates between February and October. The debut season of the National Women's Soccer League's Angel City FC launches in April with 12 home games through September. Concert dates include Santana with Earth, Wind & Fire (June), The Killers (August) and Foo Fighters (August).
Top Executive: Larry Freedman, co-president and chief business officer
Highlight: The stadium signed a 15-year, $100 million naming rights deal with Banc of California in 2016, but the deal was terminated in 2020. 
DIGNITY HEALTH SPORTS PARK
Date Opened: June 1, 2003
Capacity: 27,000
Location: 18400 Avalon Blvd., Carson
Venues in the Facility: Adjacent to the main stadium, a velodrome, tennis stadium and an outdoor track-and-field space fill the property near the Cal State Dominguez Hills campus. The stadium has been used for football for the Los Angeles Chargers (2017-19) and San Diego State (2020-21). It has also staged championship boxing, international rugby, lacrosse and the ESPN Summer X Games.
Major 2022 Events: Major League Soccer's Los Angeles Galaxy has 17 home dates from February through October. The SheBelieves Cup featuring the U.S. Women's National Soccer team runs from Feb. 17 to 22.
Top Executive: Katie Pandolfo, general manager
Highlight: The AEG-owned site had naming rights with The Home Depot for 10 years (2003-2013), followed by StubHub for five years (2013-2018). 
For reprint and licensing requests for this article, CLICK HERE.