Venues, Vendors Toast Wedding Industry's Comeback
Monday, February 14, 2022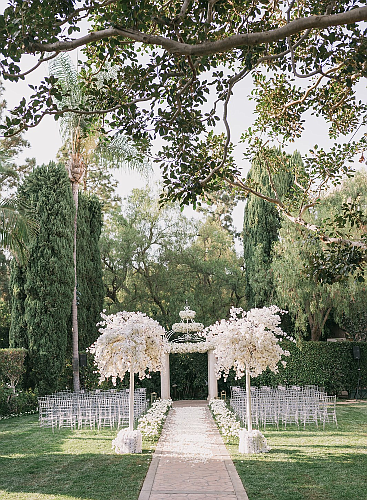 Couples planning to tie the knot this year are spending more, worrying less and booking early — all signs that point to a promising wedding season, according to local industry professionals.

"Everyone is ready to party again," said Nicole Harris, owner of Dreams in Detail, a Beverly Hills-based luxury event planning company. "A lot of my clients aren't super sensitive to Covid anymore. ... I just did a wedding with over 260 guests last weekend, and everyone was having a great time. Last year people were a little apprehensive about having bigger wedding parties, and they did smaller intimate events, but now everyone's ready to get back to things how they once were."

The increase in event size means demand for wedding venue space and hotels also is up.
"(About) 90% of my clients have been ready to book a huge, huge weddings and party like they would have done in 2019," Harris added.

Three years ago, more than 60,000 couples got married in Los Angeles County, but only about the half as many were logged the following year as the pandemic sent the wedding industry into a tailspin.
 
Average spending per wedding also dropped from $31,500 in 2019 to about $27,700 in 2020, according to data collected by Wedding Report Inc., a Tucson, Ariz.-based market research firm. Bookings started bouncing back last year, with nearly 54,000 weddings taking place at an average spend of $29,850.
 
For 2022, Wedding Report is predicting some 72,000 couples in L.A. County will tie the knot, dolling out about $32,500 to mark the occasion.
 
State and federal records gathered by Wedding Report show that the local figures mimic national trends — about 1.27 million weddings were held in 2020, a 40% decrease compared to 2019. Last year the industry rebounded, however, with 1.93 million weddings, and this year the market research firm predicts some 2.47 million couples will say "I do," about 15% more than in 2019. 

Contractual arrangement
Robert Shahnazarian, co-owner and head of sales and marketing at Noor in Pasadena, said Noor's main ballroom at the 19,000-square-foot venue is "90% sold out," with only three Saturdays remaining available for 2022.
 
"Everything just looks really promising, especially after (state officials last week) announced — at least in California — no more indoor mask (mandate)," he said. "I think we're really heading in the right direction finally."

Shahnazarian, formerly a music producer with Sony Music Entertainment, co-founded Noor with his wife and brother-in-law in 2010. The venue hosts about 230 events each year and employs 60 workers.
 
Shahnazarian contended with pandemic-related cancellations in 2020 by offering clients three options: They could reschedule their wedding up to one year out at the same contracted price; cancel the booking and apply 100% of their deposit toward a future date; or have all of the food and beverages delivered for an at-home celebration or a virtual event.  

"2021 was our make-up year for all of our clients' events, so we were pretty much sold out in 2021," he said. "Although new bookings were off to a slow start in 2022 (due to the omicron surge), we anticipate doing much better than we did in 2021."

These days, vendors are less lenient with postponing or cancelling weddings, Harris said. Contracts now usually contain a Covid clause that spells out when a booking is refundable.

"For anything that's usually out of the clients' control, vendors are being very accommodating," she said. "But if the client just decided, 'Hey, we're getting scared of Covid,' on their own, and the venue didn't shut down or anything like that, then there's a clause (that states) they don't get their money back because the vendor already booked the day, had it reserved and refused other clients for them."

Bigger budgets
Harris founded Dreams in Detail in 2015. She and her staff of three usually manage about 30 high-end weddings each year.
 
"We are predominantly based in Beverly Hills and we also serve areas all over Southern California and Las Vegas," Harris said. "One of the things we also do is destination weddings, and we're known for the details that we put into all of our weddings. So, for example, we care about things like what font is on the menu … and major transformations to the (venue) space."
 
Harris usually works with clients whose budget ranges from $100,000 to $150,000, well above the L.A. County average of the $32,500 Wedding Report predicted for this year. Even so, she said her clients are spending more, in part because the pandemic prolonged their engagement and provided them with more time to save up.
 
And while some couples are using the extra cash to invite more people and throw bigger parties, others are still sticking to smaller, more intimate weddings — but not because they have to. The trend emerged during the Covid-19 outbreak, and like videoconferencing, will likely stick around for a while.

"I think that those were done really beautifully, so I do see going forward people who attended weddings like that, and saw them done, might continue that trend and might not go for the bigger wedding parties simply because they can spend a lot more money on the details versus feeding 200 people," Harris said.

Dalel Snider, owner of Glendora Florist Inc., doing business as Los Angeles Floral Couture, said she's also seen a surge in the popularity of elopements, smaller weddings and intimate gatherings over the last few years. Her team of 20 employees creates flower designs for about three to five weddings each weekend, and last week they were busy churning out Valentine's Day and Super Bowl-themed arrangements.

When asked if she thinks 2022 will be better or about the same as last year, Snider was cautiously optimistic.

"With the ever-changing times, it's definitely hard to say," she said via email. "We like to think positively and forecast a brighter year of celebrations and more reasons to celebrate. We are already booking for 2023." 
For reprint and licensing requests for this article, CLICK HERE.