AJU to Sell Bel Air Campus
Monday, February 21, 2022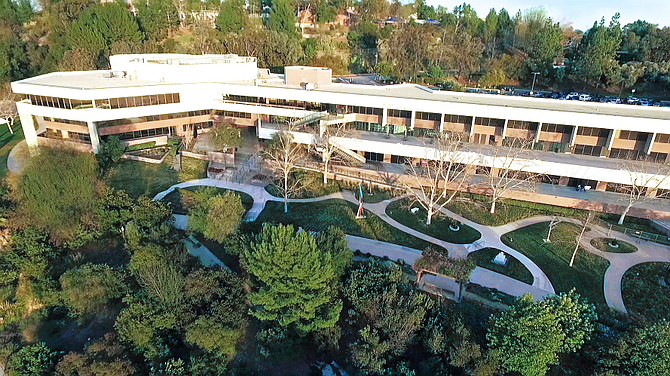 The American Jewish University plans to sell its campus in Bel Air while expanding its digital and in-person offerings.

AJU, which has campuses in Bel Air and Simi Valley, announced the plans Feb. 10.

Money from the sale of the Bel Air location, known as the Sunny & Isadore Familian Campus, is expected to help improve AJU's academic and community programs. The campus is located at 15600 Mulholland Drive and is being listed by Eastdil Secured.
Jeffrey Herbst, president of the AJU, said it was possible the AJU would lease back part of the campus from the eventual buyer. He did not have a sense of how much the property would sell for but said he was "optimistic."
 
"It's a unique piece of property," he said, adding that the sale would "unlock the value of the property" for the organization.
He said he sees more organizations evaluating space needs going forward.
"This is part of what a lot of organizations … are going to think about in the next few years, which is post-Covid and in a Zoom era, reevaluating our facilities," Herbst said. "We found a tremendous audience for our content digitally."

AJU recently launched a new digital platform called Maven to offer classes and events online. Herbst said the university was hoping to further expand and create new digital programs. One of its most popular classes, he said, is a conversion program the university offers that he is hoping to expand digitally.
 
"We'd like to do more in the area of digital programming ... We used to think our audience was within 10 miles of campus. Now we've found a very significant audience on the East Coast and the United Kingdom and South America and Africa," Herbst said.
 
Prior to the pandemic, he said, many "thought learning had to be done in person" which has now changed.
"What we learned from our audience is people are not necessarily going back to in-person learning … They've made their peace with Zoom and don't want to go on the 405. We've seen a permanent evolution in learning," Herbst said.

AJU's Brandeis location, known as the Brandeis-Barbin Campus, however, is not being sold. It is at 1101 Peppertree Lane in Simi Valley.
Herbst said it "hosts a series of activities which are very much tied to location," specifically camps for kids and teenagers.

"That has to be there. That's not going online," he said.
AJU's Bel Air campus is its third location. In 1947, the University of Judaism was founded six years after the Brandeis Camp Institute was created, first in other areas before finding a Simi Valley home in 1947. The University of Judaism moved to its Bel Air location in 1977. The Brandeis-Bardin Institute was acquired by the University of Judaism in 2007, creating what is now AJU.

Herbst said selling the Bel Air campus was just the latest step in AJU's evolution.
"We see this most recent announcement as part of our history of being flexible enough to move and take advantage of new situations," he said. "We believe that we're acting proactively and taking actions that a large number of other organizations will eventually come around to. I'm very optimistic about the future but we are in transition, and we want to be as transparent as possible. Our entire society is going to be evaluating land and facilities."
For reprint and licensing requests for this article, CLICK HERE.