Banks, Wealth Managers Expand Ways to Build Generational Wealth Among Communities of Color
Monday, February 21, 2022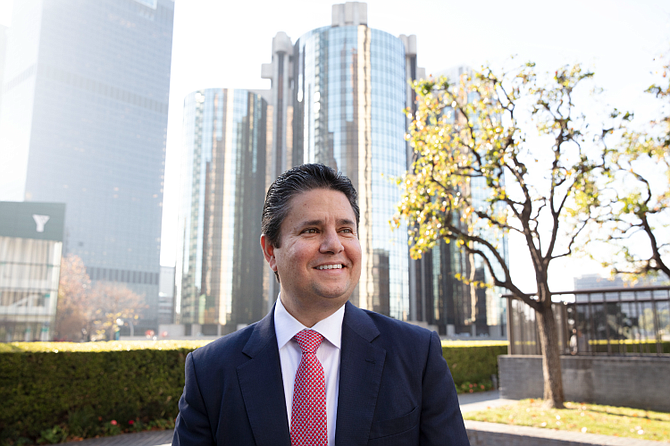 Banks and financial advisors have been working in tandem to keep the economic momentum in traditionally underserved minority communities on a positive trend by focusing on different rungs of financial maturity and business development.

While banks have focused on helping minority-run small businesses launch, survive and thrive through some of the roughest economic times in recent history, wealth strategists have been engaging high-net-worth people of color to put their fortunes to work for the benefit of their families and communities.
 
The former is helping businesses land that location at the front-end of the building, as J.P. Morgan Private Bank's Deb Langford put it, while the latter is helping the people who want to buy the building outright.
"That's really the intersection of what we've done," said Langford, who heads the bank's Black Wealth Initiatives program.

Part of the bank's Diverse Wealth Initiatives, Langford's program launched out of the company's Century City office in 2021 to engage affluent Black families throughout the country in investing, philanthropic giving, and credit and estate planning, among other offerings. She said the program is operating in 26 markets, with many led by people of color.
 
"It's a national program running across the country, but Los Angeles has so many unique attributes that make it a leader. We have entertainment, sports, technology," Langford said. "[It's a place] where you can go from making money to having wealth, but if you don't have the right relationship with the right firm, that wealth's not generational."

Generational gains
Citing a growing market and opportunities for social and economic change, many banks have devised strategies for engaging minority business owners and wealthy people of color similar to JP Morgan's two-tier approach.

A July 2021 Merrill Lynch & Co. Inc. "Diverse Viewpoints" report found a 65% increase in the number of affluent Black and African American households between 2015 and 2020, compared to 53% for the general population. The number of affluent households in Latino communities has grown 81%, with an affluent household being any with an annual income exceeding $125,000.

Brenton Hamlet, a wealth management advisor at New York City-based Merrill Lynch, said the disproportionate growth is an optimistic sign that efforts to reverse the wealth gap are working. As co-chair of the investment group's Black Executive Leadership Team, Hamlet said he acts as a de facto brand ambassador to Black communities in Los Angeles, "as a whole our job is to make an impact for those who may not have access. Even those who you believe would have access, generationally, it may not be something their parents told them."

Hamlet noted that L.A. includes three of the wealthiest ZIP codes for Black families in the country: View Park-Windsor Hills 90043, Baldwin Hills 90008 and Ladera Heights 90056. The upswell in Black wealth has largely been attributable to baby boomers and Gen Xers who are respectively reaching retirement age and financial maturity, making their children the first in their family from generational wealth.
 
"One of the big movements (among our clients) is to help the next African American generation pay for their schooling so they don't have that burden," Hamlet said. "That's symbolic — most of their parents had that burden. When you don't have generational wealth built up, you're using what you have on hand." 

'Amazing' momentum
While strategists are helping affluent people of color pass on that generational wealth, their counterparts in banking have been working to give today's business owners the tools and resources they need to establish their own.

Mikal Quarles started JPMorgan Chase & Co.'s Business Minority Entrepreneurs program from scratch in late 2020, following initial conversations with the bank's leadership on the concept the previous year.

"There's been this continuous evolution as we've realized there's more than we can do to serve communities of people who have been historically underserved by providing capital for third parties," said Quarles. "Now, we're thinking about how we can use our own human capital to lean in."

The program provides one-on-one consulting and mentorship services for small businesses, Quarles said, directing its efforts at Black- and Latino- as well as women- and veteran-owned companies. He said his team typically spends around six months working with each business.

"Something we learned early on is that there's a significant difference between technical assistance, which is a (standard) level of engagement, and a consulting effort (that) is (more) intimate. That's where we're going to help them create objectives and identify key results," Quarles said.

Quarles, who is based in Chase's downtown L.A. office, said minority communities have been rebounding significantly since being disproportionately impacted by the pandemic.

"The momentum here in Los Angeles specifically has been amazing," Quarles said. "I think the one thing that was at the very front end of that is that there were a lot of significant organizations here who were either already down the path of doing an assessment or knowing they needed to do more."

Local business leaders and legislators have been similarly eager to make Los Angeles a thriving hub for minority communities, according to Raul Anaya, past president of the Los Angeles Chamber of Commerce and the president of business banking at Bank of America Corp. He said the chamber's advisory CEO Council, comprised of chief executives from large companies like Hawthorne-based Space Exploration Technologies Corp. and El Segundo-based Mattel Inc. as well as family-owned businesses, has united around initiatives dedicated to building workforce housing and workforce development to the benefit of lower-income households.

He noted that last year, Bank of America expanded its $1 billion, four-year commitment to advance racial equality and economic opportunity to $1.25 billion over five years, with the promotion of health, jobs reskilling and upskilling, affordable housing, and small business as primary areas of focus.

"The strategy behind being an investor for minority-led venture capital firms is to really create long-term wealth, to create founders who themselves are predominantly investing in minority-owned tech companies," Araya said. "You get that ripple effect."
Through $350 million in investments as part of the commitment, Araya said the bank has become a limited partner in a number of minority-owned and -managed venture capital firms, including Pasadena-based VamosVentures Management Company, Hollywood-based MaC Venture Capital Management and, most recently, downtown-based The 22 Fund. It also has backed L'Attitude in San Diego, Ulu Ventures in Palo Alto, and Serena Ventures, Cleo Capital and Black Ops Ventures in the Bay Area.

Part of the bank's $1.25 billion commitment is dedicated to increasing financial literacy in BIPOC communities, Hamlet said, while another portion is allotted to identifying minority-owned companies throughout the Southland that can impact social justice and change.
 
"Our main goal is to bring the resources of bank to Black community to be their advocate and to be a voice. People don't want to call a 1-800 number; they want to talk to us," said Hamlet.
For reprint and licensing requests for this article, CLICK HERE.