Red Chickz Franchising Model Takes Flight
Monday, February 21, 2022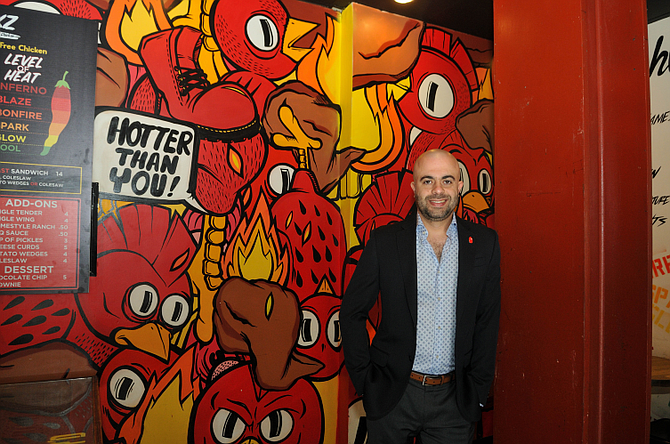 Shawn Lalehzarian and his partners did their homework before opening the Red Chickz eatery in downtown. They spotted an emerging trend; went to Nashville, Tenn., to source an authentic hot chicken seasoning and sauce recipe; and worked with eight chefs to master the frying process and get the perfect crunch and the lightness of the breading.

Yet several months after opening, and with thousands of happy customers served, a one-star Yelp review described their operations as "the Taco Bell of Nashville hot chicken."

"It was very hurtful, and we were very upset, but the very next day, I went back to my partners and said, 'What if we actually become the Taco Bell of Nashville hot chicken?'" Lalehzarian said. "And we figured to become that giant, the only way to do it is by franchising. And the funny thing is, one of my favorite CEOs, the one that I looked up to, was Brian Niccol, and actually, he was the CEO of Taco Bell for a good amount of time, so it all connected for me."

The franchising spark ignited by that Yelp review became a full-blown reality this month. Lalehzarian, who cofounded downtown-based Yellow Dot Restaurant Group Inc. in 2018 with Nima Christensen and Goel Talasazan to operate Red Chickz, has signed 10 franchising agreements to date and has more than 800 prospects coming down the pipeline.
 
"We are starting in just four states: California, Nevada, Arizona and Texas," Lalehzarian said. "We also have numerous interests from overseas that we are considering at this point and seeing when would be the best time to move forward with those opportunities, because for us, yes, the speed of growth is very important. We definitely don't want to slow things down, but we don't want to sacrifice or quality, our brand, the consistency and the support that we can offer our franchisees just to get more stores open and have a fast grow."

The franchising opportunities are channeled through the Red Dot Restaurant Group Inc. entity. The initial franchising fee is $40,000, with a total investment estimated in the range from $363,500 to $821,400 per location. The Red Chickz will also charge a royalty fee equal to 6% of restaurant's total gross sales. The downtown location generates more than $1 million in annual revenue, according to Business Journal estimates.

Lalehzarian said he and his partners also plan to add more corporate restaurants, with a second location opening in Culver City next month, followed by four to six more "towards the fourth quarter of 2022 and maybe first quarter of 2023."
For reprint and licensing requests for this article, CLICK HERE.