Beauty Ecommerce Platform Thirteen Lune to Expand by Hundreds of Locations This Year
Monday, February 28, 2022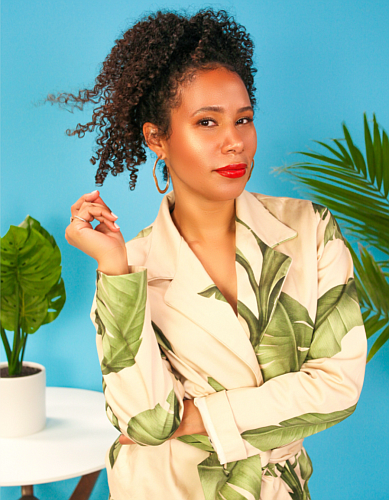 A little over a year after launching Thirteen Lune Inc., Nyakio Grieco's efforts to level the playing field for BIPOC-owned beauty brands are bearing fruit.
The West Hollywood-based ecommerce retailer she launched with Patrick Herning in Dec. 2020 started out with 13 skincare, hair and makeup brands and now boasts a roster of more than 120.
 
Products from nearly 40 of those companies can also be found at Thirteen Lune's shop-in-shop experiences that opened last fall at 10 JCPenney department stores. And the collaboration with the legacy retailer is just starting, according to Grieco.
"We will be opening an additional 300 doors this September, and then (another) 300 doors in the first quarter 2023," she said.

A $3 million investment from Atlanta-based Fearless Fund, announced in November, is supporting the expansion and has helped Thirteen Lune grow its team of 17.
"We're still small but mighty, and we've been able to make some amazing key hires," Grieco said.

The newcomers, who joined the company last month, are Director of Logistics and Supply Chain Allix Karas and Senior Marketing Manager Kelly Cantrell.

Brick-and-mortar growth
Thirteen Lune's inaugural 13-brand cohort included Burbank-based Bomba Curls, a haircare brand that debuted at 348 Target stores this month. Grieco said she heard about Bomba Curls and founder Lulu Cordero through friends and acquaintances in the industry before she started the ecommerce platform and then saw the name again on lists of BIPOC-owned companies that were circulating online after murder of George Floyd in May 2020.  

"I purchased some of her product, used it on my hair, my daughter's hair and was just blown away by the efficacy of the product and her story," Grieco said. "And so, when we did ultimately create Thirteen Lune, we invited her to be one of our original 13 brands."

"(We're) deeply proud of her," she added. "I know firsthand what it's like to walk down the aisles at Target and see your brand on shelf for the first time. And it's honestly an experience that is really hard to even put into words. So, to know that she's had that experience and will continue to have this growth, makes me feel very happy. It's exactly why we started Thirteen Lune, because our intention was always to bring these brands to success and help build generational wealth through the lens of beauty."

Cordero, whose family immigrated to the United States from the Dominican Republic, developed Bomba Curls' first product, the coffee-infused Forbidden Oil, in 2019 after struggling with hair loss.

"I turned to hair potions and natural ingredients that we used back home to help me regrow my hair first of all and have the most healthy, strongest natural curls possible," she said. "All the while, I am also doing the work to make it OK to embrace your natural hair. Having curly hair, having that Afro texture, has a stigma associated with it, and the work that we do with Bomba Curls I always say is deeper than hair. We are helping to celebrate a type of beauty that's not often celebrated or seen."

Her product lineup also includes the Forbidden Hair Mask, Bomba Beauty Bites, a multivitamin blend and a "complete regimen for wash day" is in the works. Everything is manufactured in South Florida, while the majority of ingredients she sources are from the Caribbean and Latin America.
 
"I am a Black Latina, and having that Afro-LatinX representation is extremely important to me — helping my community feel seen, helping my community feel celebrated, helping the community also see that it is OK to embrace the skin you're in and to feel beautiful in it," she added.

Landing on the Thirteen Lune ecommerce platform and collaborating with Grieco helped Cordero introduce Bomba Curls to a wider audience, which by 2021 included shoppers at Nordstrom, Bloomingdales, JCPenney and now Target.

"One of the things I'm always telling people is, 'The streets are watching; never doubt it. No matter how small or big you may think you are, know that someone's watching,'" she said. "And that was the case with Target. We had the opportunity to pitch to Target in the beginning of 2021, and the meeting went well. They asked all the tough questions. I was so scared because it's Target. You're playing with the big boys now."
She added that she has "the biggest respect" for Grieco and her work with Thirteen Lune.

"There are two types of people in this world," Cordero said. "One is the type of person that when they make it to a certain place, they turn around and pull the ladder away. And then there's a type of person that turns around and puts that hand out and helps you climb up the ladder with them. And I'm so overjoyed to see that Nyakio is that second type of person that wants to uplift the others." 

Paving the way
Thirteen Lune is Grieco's second venture. In 2002, she founded Nyakio Beauty, a line of bath and body products inspired by recipes from her Kenyan grandmother.
New York-based Sundial Brands, a Black-owned maker of SheaMoisture and Nubian Heritage, acquired Nyakio Beauty in 2015.
 
The company traded hands again in 2017 when London-based Unilever picked up the parent company, which at the time generated about $270 million in annual revenue. The acquisition enabled Nyakio Beauty to expand its line of skincare products, which Target.com picked up right before the pandemic.

Grieco, a Black founder herself, said the lack of access the lack of access to capital presented "a lot of hurdles and roadblocks."

"And while I did have the privileges of launching Nyakio Beauty on HSN, at Ulta and ultimately at Target under Unilever, and that was a dream realized, it shouldn't have taken me the 18 years to get there," Grieco added. "Black and brown people spend the most on beauty. We do so much to contribute to the success to the tune of billions of dollars for many beauty companies and we deserve a bigger piece of the pie … I wanted to take my pain and turn it into purpose and find a way to help Black and Brown founders create generational wealth for their families."

Grieco sees her purpose growing along with her business.
"I feel total joy to live in my purpose every day and to know that these Black and Brown founders are creating the next generation of Black and Brown founders looking at them," she added. "And that's how we'll have complete financial equity and hopefully alleviate systemic racism in this country when we are all on an equal playing field."
For reprint and licensing requests for this article, CLICK HERE.