Beyond Meat Retail Sales Slump While Restaurant Business Picks Up
Monday, February 28, 2022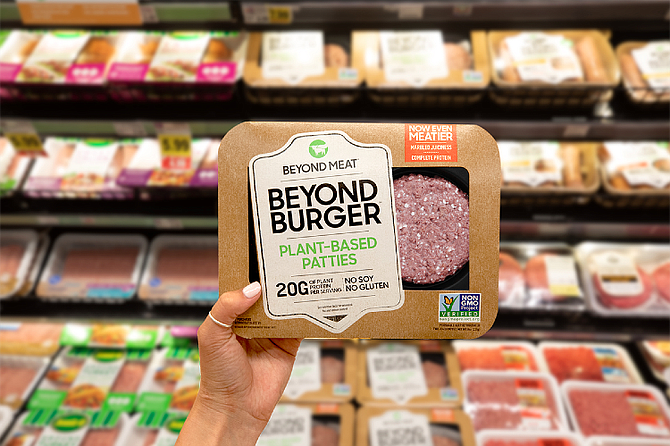 Beyond Meat Inc.'s shares dipped about 11% in afterhours trading on Feb. 24 following a release of fourth-quarter results that missed Wall Street expectations.  
The El Segundo-based maker of plant-sourced meat products posted a net loss of $80.4 million, or $1.27 per share on $100.7 million in revenue. Analysts anticipated a net loss of 71 cents per share and $101.3 million in net sales.

Beyond Meat's revenue for the full year added up to $464.7 million, a 14.2% increase compared to 2020. Net loss for the year was $182.1 million, a 250% jump from $52 million it notched in 2020.

"In 2021 we saw strong growth in our international channel net revenues, as well as sporadic yet promising signs of a resumption of growth in U.S. foodservice channel net revenues as Covid-19 variants peaked and declined," Chief Executive Ethan Brown said in a statement. "These gains, however, were dampened by what we believe to be a temporary disruption in U.S. retail growth for our brand and the broader category."

He added that the investments the company made in its "team, infrastructure, and capabilities across the U.S., EU and China, as well as extensive product scaling activities for key strategic partners, weighed heavily on operating expenses and gross margin during a fourth quarter and year that were already impacted by lower-than-expected volumes. However, we believe these investments will be instrumental in driving our long-term growth."

Beyond Meat's domestic retail sales totaled $49.9 million in the fourth quarter, a 19% decrease from a year-ago period. Foodservice revenue, which includes restaurants, was up 34.7% to $20.6 million, due to higher demand from existing accounts, new product introductions and expansion of distribution.
 
Company's international sales added up to $30 million, a 22% jump, and were nearly evenly split between foodservice and retail sectors.
A similar scenario played out throughout 2021, with domestic retail down 7.9% to $243 million, while foodservice was up 25.9% to $76 million. International retail grew 123% to $81.4 million, and foodservice totaled $63.3 million, a $39% uptick.

The company's guidance for the full year 2022 anticipates net revenues in the range of $560 million to $620 million, an increase of 21% to 33% compared to 2021.

"As we begin 2022, we are pleased with the progress we are making against our long-term strategy, such as the number of tests and core menu placements recently announced by our global QSR partners," Brown said in a statement. "Though we will continue to invest during 2022, we expect to substantially moderate the growth of our operating expenses as we leverage the building blocks we now have in place to serve our customers, consumers, and markets."
For reprint and licensing requests for this article, CLICK HERE.