FitOn Ready for Growth After Peerfit Acquisition
Monday, February 28, 2022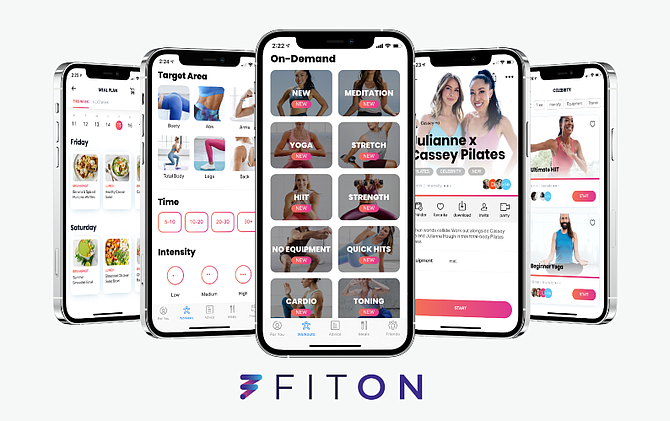 Since launching in 2018, West Hollywood-based FitOn Inc. has established itself as a force to be reckoned with in the competitive fitness tech sector.
According to mobile app data tracker Data.ai, FitOn's namesake app has routinely ranked among the top 15 apps by downloads in the health and fitness category over the past month and recently joined the top 100 in terms of active users.

Now, the company is ramping up for future growth with a $40 million Series C funding round and the acquisition of Florida-based digital health startup Peerfit Inc.
FitOn Chief Executive Lindsay Cook said the company's early success is partly the result of its ability to take advantage of the resources that Los Angeles has to offer as a health and fitness hub.

"We film workouts with world-class trainers in the L.A. area," said Cook. "All the best folks in health and fitness really do live in L.A. And we've been working out not only with these trainers but with celebrity ambassadors."

Users of the company's app can access video workouts led by celebrities such as actress Gabrielle Union and TV personality Jonathan Van Ness as well as star athletes like Lindsey Vonn. This content is supplemented by digital health and self-care guidance and mindfulness training, along with paid courses led by professional trainers.

The star power helps to draw users to the app, but Cook said the quality and variety of FitOn's content is what keeps those users coming back.
"We're really about driving engagement and providing long-term solutions, building fitness into a habit and a lifestyle," said Cook. "That's very differentiating in the (health and fitness) category from what's out there today."

The acquisition of Peerfit is meant to advance the company's efforts to reach workers struggling to find time for a fitness regimen. Peerfit's digital platform — which helps users locate gyms, trainers and classes — is accessible to many corporate employees through workplace benefits packages.

FitOn said Peerfit would continue to operate independently following the acquisition, but Cook said that FitOn's digital offerings could be integrated into the Peerfit platform to enable users to connect with fitness options both in and out of the home.
"They're kind of a perfect complement to us," Cook said. "With this acquisition, we're combining the best of at-home fitness with in-gym fitness and expanding our population."

Cook said FitOn already boasts more than 10 million users and, following its latest funding round, will seek to expand its reach internationally and ramp up development of new offerings.

"We're all too busy nowadays," said Cook. "If you just dedicate 10 minutes to your own health and fitness, it gives you so much more energy and it reduces stress in everything you're doing."
For reprint and licensing requests for this article, CLICK HERE.