Pool-Sharing Service Expands to Other Recreational Spaces
Monday, February 28, 2022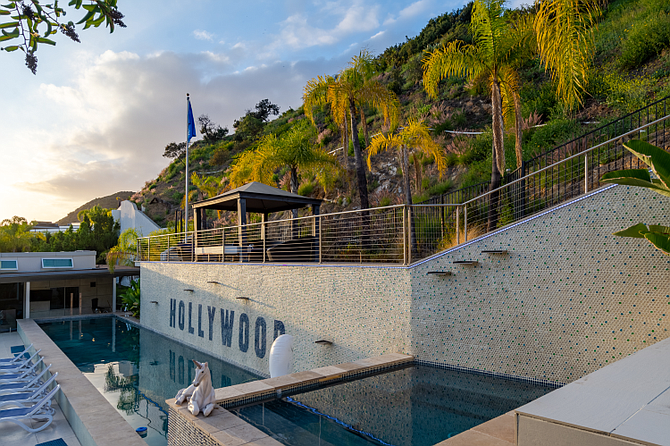 After testing the waters with short-term backyard pool rentals, Swimply Inc. has set its sights on L.A.'s private recreation spaces — basketball, tennis and volleyball courts, putting greens and soccer fields.
 
"People build stuff that they're passionate about, but they don't use it all the time, and there's millions people passionate about the same things but who do not have the ability to purchase their own," said Chief Executive Bunim Laskin. "We want to democratize all these spaces and open them up to the community. We'll start with sport courts in April of this year in the city of Los Angeles and we'll (grow) from there."

The category expansion will be spearheaded from company's new headquarters in Hollywood Hills, a four-story, 14-bedroom house whose previous owners included Justin Bieber and Sean Kingston.

"L.A. is the biggest market for Swimply, so we wanted to be near our users," Laskin said, adding that the city also "has the perfect culture for the kind of business that we're trying to build."

He added that the January headquarters move from New York was "in the works for a while," but was delayed by the pandemic. "I moved to L.A. in July to start the process."

About a third of company's 70 employees are local while the rest work remotely from New York, San Francisco, Texas, Louisiana, and other parts of the country. The top two floors of the house Swimply is leasing are designated as office space, and the bottom two floors are set up as bedrooms for employees to stay when they "fly in to be part of the action."

"We knew that we wanted to support remote work, but we did want to have a home that people can work together and innovate together and build culture together (in)," he said. "We kind of get the best of both worlds."

Pool of money
Laskin, an Israel native whose family moved to New Jersey in 2010 when he was 14, founded Swimply predecessor, Pools for You, with Asher Weinberger in July 2018.
"I am the oldest of 12 children," Laskin said. "We never really had the means to travel or go to camp, so all 12 of us were cooped up in the house. Our neighbor had a swimming pool, but she never let us use it because she figured if she let us use it once we would all live in her backyard 24/7."

Laskin offered to pay her to use her pool and offset her maintenance costs, and within two weeks five other families were doing the same.
"When she told me she was making a profit I realized that this can be a big business where we could take all these swimming pools that the owners barely use and we can open them up to the community and for the people that own swimming pools, what used to cost them money can now make them money," he said.

Laskin signed the first four pool owners by canvassing the neighborhood and relying on Google maps to see who has a pool. But the word spread quickly, and by the end of the summer, nearly 100 pools were on company's roster, generating $30,000 in revenue that year.

In March 2019 Laskin and Weinberger, Swimply's chief operating officer, raised $1 million in seed money from angel investors to scale their operation and relaunch as Swimply.

"I found every person that knew a rich person and started pitching them about my idea, the vision that I had," Laskin said. "We raised $10 million from venture capital firms in January of 2021 and another $40 million in October 2021."

Menlo Park-based Mayfield Fund led the October funding round, with participation from GGV Capital, Ensemble VC, and Swimply's Series A investors, Norwest Venture Partners and Trust Ventures, as well as AirBnB co-founder Nathan Blecharczyk, Lime's co-founder Brad Bao, and Instacart Chief Executive Fidji Simo.

"Obviously their vote of confidence in the vision that we're building is huge," Laskin said. "But even more importantly, they're people that (I can go to for advice). We try not to reinvent the wheel when we don't have to but just asking people who have already done this before."

Scalable model
Today some 15,000 pools are listed on Swimply's website. The company facilitated about 250,000 bookings in 2021, and the company has generated more than $20 million in revenue since the business took off in 2020.
 
People book the pools by the hour, with the price ranging from $20 to more than $100 but averaging about $40. Swimply charges users a 10% guest service fee and also collects a 15% commission fee from the pool owner.

In turn, the company provides $1 million insurance per booking and $10,000 to cover any property damage.
"So far, we have done over 100,000 bookings and we had no incidents to date," Laskin said. "A lot of that (is) because the experiences are so short — the average experience is only two hours long and it's an average of five people and they're limited to the pool area … Most incidents at a pool happen when people are in the house and somebody goes outside and they're not being supervised. Also, the owners have all the control — they decide how many adults are allowed, how many children. They get to approve every booking."

Joe Crouch, who lives in Monrovia, signed up to be a host in August 2020.
"I registered, and within two weeks I was completely booked," Crouch said, adding that the extra income helped with paying the bills as "we were in the clutches of the pandemic and my money was tight."

His pool was "booked solid throughout the first half of 2021, as public pools remained closed.
"I became a top Swimply producer within a first month," Crouch said. "I'm one of the few pools that heats during the winter ,so I'm busy then as well, and right now I have swimming lessons that are here fairly regularly, and on weekends people usually reserve for private parties."

He added that at least 50% of his bookings are made by people who have already used his pool.
Laskin said the recent $40 million investment will enable the company to launch new spaces on the Swimply platform, which eventually will include large backyards, kitchens, docked boats, rooftops, home gyms, music and art studios, and home theaters. The funding will also help the company provide more insurance; increase its customer support; improve its app; and expand to Australia, Spain, Brazil, and Canada.

"We knew (renting) pools is going to be a challenge, but we love pools because a tennis court is really for tennis players and a basketball court is for basketball players and the pool is for everybody," he said. "There's senior citizens that use Swimply, there's college kids and families, and some people use Swimply for birthday parties and for photo shoots. We knew that if we figured out swimming pools, we'll figure out the most complex space and then we'll be able to use our learnings from pools to be able to perfectly launch other verticals."

One of the lessons Laskin picked up was to "surround yourself with people who are not just working for you but believe in the vision and are supporting you for every step."

"And … bring on investors that don't just give you money but are also supporting you," he added. "I think that was something I could have done sooner. I started off just by bringing on employees and people that are just here for the paycheck. But you really want people to believe in the vision and the good that you're doing in the world." 
For reprint and licensing requests for this article, CLICK HERE.