Kitchen United Tests Grocery Location With Plans to Expand
Monday, January 10, 2022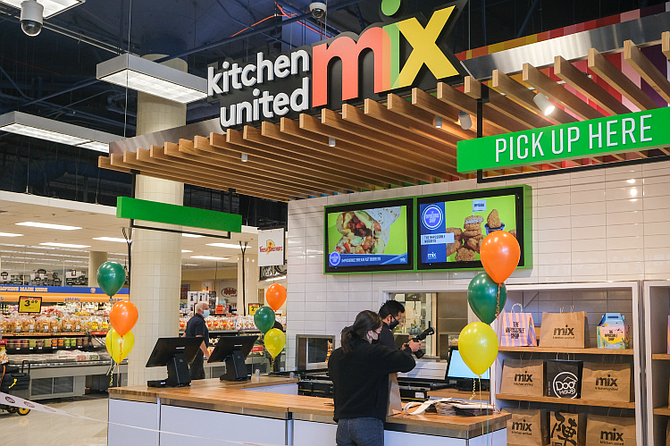 Kitchen United Inc.'s cooking sites are usually tucked away from the public eye with the pickup window serving as the sole point of contact with customers and delivery drivers.
 
But its newest location, inside a Ralphs Grocery Co. store in Westwood, provides a view of the ghost kitchens occupied by chefs from Westchester-based Fresh Brothers, SAJJ Mediterranean in Belmont, Pasadena-based Dog Haus and other
restaurants.

"The industry term that we have fallen into is ghost kitchen, but this is very much not ghostly," said Chief Business Officer Atul Sood. "It's front and center, visible in the store, and we're very proud of the design and architecture that's gone into it. We even have a conveyor belt where customers can see their food after its prepared and packaged make its way to the front-of-house pickup center."

Kitchen United, founded in 2017 in Pasadena, operates nine other ghost kitchens in Santa Monica; San Jose; Chicago; Austin, Texas; New York City; and Scottsdale, Ariz. Each location houses chefs from about a dozen restaurants and provides them with necessary equipment and amenities such as receiving supplies in the morning, cleaning, and staffing the pickup counter.
 
Kitchen United's proprietary MIX ordering platform facilitates orders at each location and integrates with popular delivery apps to schedule pickups and synchronize cook times so orders from multiple menus can be served up at the same time and paid with one bill.
 
"We make money both through what we call fixed occupancy (fees) and through a percentage take on any business that comes through our channel, through Kitchen United MIX — we charge a small percent of that," Sood said.

The company's facilities follow a number of formats, he added. Some of them are traditional ghost kitchens where all the food is prepared in the back and then transported either by person or conveyor to the pickup counter, and the consumer cannot see the food being cooked. Other locations — including its space on the Third Street Promenade in Santa Monica — operate like food halls where there are multiple restaurant stalls, but consumers order and pick up food from a centralized location.

"All of these are optimized for off-premises dining, so even for a delivery driver in the Ralphs location, it's very easy to enter and exit and pick up the food and take it out to the end customer," Sood said. "And then, we do have an installation in San Jose, which is within a Westfield Mall, where we're aggregating food from food court restaurants and different restaurants across the facility to be taken in an essentially a drive-thru manner by delivery drivers for the off-premises customer.

"We make people happy," he added. "There's no more no more fighting at home to see who wants what food. You can all get what you want."

Grocery real estate
The company will continue with a multichannel approach, which calls for more ghost kitchens based in Kroger Co. stores to launch in the coming months.
"This is the pilot site," Sood said of the Westwood Ralphs location. "There will be two more sites that will open in the next few months in Texas, but we are open to additional sites in California as well in due course."
 
Grocery stores and ghost kitchens share a symbiotic relationship in which each has a potential to gain business organically.
"For Kroger, we definitely can bring in a customer who's interested in getting the fully prepared, restaurant-quality meal, who will buy other goods," he said. "Similarly, for us, the regular Kroger customer who's buying groceries for the week can also buy dinner for tonight."

Kitchen United crossed paths with Kroger, Ralphs' parent company, a couple of years ago and found the Ohio-based grocer that operates some 2,800 stores to be "a very forward-thinking company that was open to experimentation with the kinds of business models," Sood said

"Kitchen United is very clearly a new approach to restaurant food in general, and when we collaborated, we realized that together, we could offer the consumer something that wasn't available," he added. "Kroger is the largest grocery store chain in this country, and that was very compelling from our perspective, but really what was most exciting was the team that we worked with was both very innovative and very fast-moving, and that is important when you're a startup that is looking to move fast and change the rules of the game."

Kitchen United's Ralphs location is about 2,000 square feet of space near the store's entrance and will house no more than six restaurants.
 
"It is a slightly smaller footprint than our traditional locations, but we are very careful about the restaurant member curation and cuisine choice," he said, adding that the final lineup was chosen after "an analysis of the cuisine types that were most desirable in the area, based on the various demographic information that we got."

Tenant mix
Last month, chef David Chang's Fuku started operating out of the Santa Monica ghost kitchen location after the popular fried chicken eatery broke ties with United Kitchen's competitor Miami-based Reef Technology Inc.

"The trendy brands are definitely an area of focus for us, and I think you'll see some more announcements from us in the coming months about additional brands that are coming onto our platform," Sood said. "But at the same time, a lot of consumer demand is driven by traditional, big brands. So, in the Midwest, we have Portillo's, which is both trendy and a massive revenue contributor."

Sood added that Kitchen United works to identify the next up-and-coming brands.
"We really believe we can help them scale to become the next national brands, and at the same time, we like working with the national brands that we can help focus on a more specific trade area."

For restaurants, the appeal to join Kitchen United's roster of eateries includes a much lower startup cost than opening a traditional restaurant location. For example, the Fresh Brothers pizza chain opened a ghost kitchen site at Kitchen United's Pasadena location in May 2020 for under $30,000, where a brick-and-mortar pizzeria would cost around $400,000. The location brings in about $500,000 in annual sales, which is about a third of the revenue that a full-service restaurant generates, according to Chief Executive Geoffrey Goodman.

"We developed a really good relationship with the Kitchen United, with their leadership team, and we really see them as being a leader in the ghost kitchen space," Goodman said. "They provide us a really good opportunity to expand our brand in a very affordable and kind of risk-managed away."

He added that Fresh Brothers pizza is sold at UCLA's Pauley Pavilion, which is only open on game days, and moving to the Westwood Ralphs location will enable the pizza chain to further its relationships with UCLA's students and faculty as well as attract business from UCLA Medical Center and local businesses.
"The Ralphs location, which really is at the center of Westwood, in some regards it's real estate that we couldn't have afforded on our own through more traditional means," Goodman said.

"We are excited to work with Fresh Brothers," Sood said. "They are a great SoCal- and L.A.-focused brand, and they've been a great partner throughout. The investment up front to move into the Ralphs site is very low, and it's a great opportunity for brands to expand the market footprint and enable themselves to appeal to, in this case, a college-centric trade area."

Looking ahead, Kitchen United's management is "focused on building this business" and "on saturating the Los Angeles market," Sood said.
 
"We expect to have more sites in L.A. — another site in Santa Monica, and we are looking at a site in Torrance as well, and then potentially others," he said. "We're really focused on growth in 2022. What we have done so far is ensured that the model works, and we now know the model works, and we're ready to scale aggressively."
For reprint and licensing requests for this article, CLICK HERE.