VinFast Unveils New Line of EVs
Monday, January 10, 2022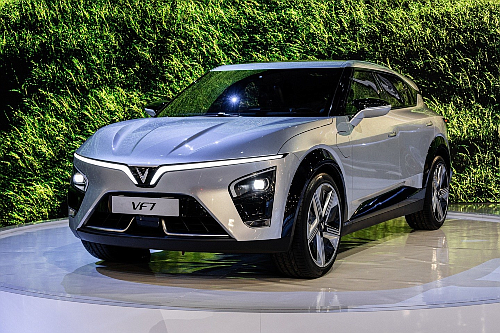 Playa Vista-based VinFast used the Consumer Electronics Show in Las Vegas as a backdrop to introduce three new vehicles and rename its first two models from VF e35 and VF e36 to VF8 and VF9 respectively.
 
The EV-maker showcased three crossovers — the subcompact VF5, compact VF6, and small VF7. They will complement the mid-size VF8 and full-size VF9 that the company unveiled in November at the 2021 Los Angeles Auto Show. VinFast outsourced the vehicle design to Pininfarina and Torino Design in Italy while the engineering work was done in-house.

The company also said it will use blockchain technologies to certify reservations, payments, and ownership of VF8 and VF9. The reservation process opened last week at CES and will close April 5. U.S.-based customers can pay a $200 refundable deposit, for which VinFast will give them a $3,000 credit toward the purchase of VF8 or $5,000 off the price of VF9. A similar credit is offered to customers in Vietnam where its parent company, VinFast Trading and Service Co., is based. VF8 and VF9 are expected to be available for pre-orders globally in the first half of 2022. Timing for the other vehicles wasn't announced.

The VF8 pricing will range from $41,000 to $48,000 and the VF9 from $56,000 to $61,000. The vehicle price does not include the cost of the battery, which can only be leased.
 
VinFast will offer two battery leasing plans: a flexible plan that limits usage to 300 miles per month before extra costs for additional miles driven is tacked on, and a fixed plan that provides unlimited range. The plans will include free battery maintenance and will equal monthly gasoline costs in each market, according to the company.
VinFast's parent meanwhile led an $80 million Series D funding round for StoreDot, an Israel-based maker of extreme fast charging battery technology for electric vehicles.
 
"We have been making dedicated efforts in research, connecting global intelligence by forming partnerships with and investing in breakthrough technology companies, especially in EV battery such as StoreDot and its extreme fast charging proprietary technology," VinFast Deputy Chief Executive Pham Thuy Linh said in a statement. "StoreDot which is led by gifted scientists and experienced entrepreneurs, along with strong support from VinFast and other strategic investors, is believed to gear up for mass production globally in a very near term."

VinFast set up its U.S. headquarters in November in a 15,000-square-foot space in Playa Vista. The company has 60 employees who support sales and marketing, distribution, as well as call center and after-sales functions. Like Tesla Inc., VinFast also plans to skip the dealership model by opening about 60 showrooms throughout California next year, mostly at premium shopping centers, to showcase and sell its vehicles. It will move manufacturing for the domestic market to the United States by the second half of 2024 and has hired a consultant to scope out a suitable location.
For reprint and licensing requests for this article, CLICK HERE.