The rocket manufacturer's latest hire will focus on software platform for 3D printing
Friday, January 14, 2022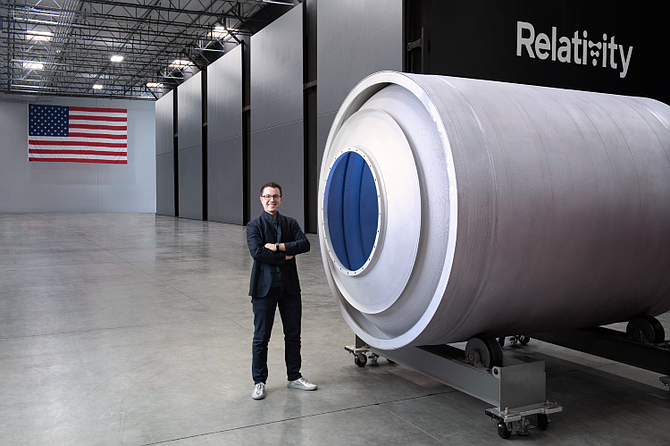 With more than $1 billion of capital raised so far and multiple launch contracts already in place,
Relativity Space Inc.
is perhaps the most successful rocket manufacturer that hasn't yet launched a rocket.
The Long Beach-based company aims to be the first to develop launch vehicles entirely manufactured using 3D-printing processes and expects to send up a test rocket later this year.
Chief Executive Tim Ellis has said in the past that using additive manufacturing, or 3D printing, technology to make rockets could significantly reduce launch costs, but that's not the only reason Relativity has attracted so much interest from investors.
The company's 3D printers — including the largest ever built — are manufactured in-house. Moreover, they are operated using proprietary software that could potentially be applied to other uses apart from rocket construction.
In a recent statement, Ellis said this technology would help Relativity create "an entire factory operating system to transform aerospace through data, machine learning and an entirely new way of developing products."
Advancing this vision of a whole new method of manufacturing — on Earth and beyond — the company announced Jan. 3 that it had hired tech industry veteran Scott Van Vliet as its new senior vice president of software engineering.
Van Vliet, who has previously headed teams of developers at Microsoft Corp. and Amazon.com Inc., said his role at the company will be managing the software design team "building the factory of the future."
The technology Relativity is developing, Van Vliet said, includes machine learning processes that can help to identify new methods of manufacturing that could cut down on costs or make component parts more efficient or more reliable. Additive manufacturing makes it possible to build structures that would be difficult to reproduce in a traditional factory, and machine learning can be used to identify areas where this advantage can be best put to use.
"We're thinking about how we can use machine learning to actually improve the way in which structures can be built," said Van Vliet. "I'm very fortunate to be the steward of that as I join the company, and we're going to be doubling down on a lot of that."
Refining structural design has obvious benefits when it comes to rocket manufacturing — one of the most expensive and complicated production processes around. But the construction of launch vehicles is just one application of the technology.
"We're thinking about how this can be used for general purposes," Van Vliet said. "Today, it's rocket engines and nozzles, but the future may hold lots of opportunities for us to expand and leverage this technology for other industries and other products."
Van Vliet will be able to draw on past experience leading teams of developers working on Amazon's Alexa artificial intelligence platform and on Microsoft's video conferencing platform, Teams. He said his first priority at Relativity will be building out a team capable of expanding on the technological innovations the company has already achieved.
"Building teams to scale is one of the things I've had the fortune of doing, and I'm really excited to take that same approach to bringing on world-class software engineering and data science folks into Relativity Space," he said.
Though the potential uses of the software and additive manufacturing processes Relativity is working on are broad, Van Vliet said his focus right now will be on supporting the company's primary goal of transforming the way rockets are built.
"The mechanical engineers and industrial designers — they are going to be the first users of this (software) platform," he said. "We can unlock their thinking and their creativity by creating an operating system that can work not just for rockets but for any industry."
For reprint and licensing requests for this article, CLICK HERE.