RadNet Bringing AI to Imaging Centers
Monday, January 17, 2022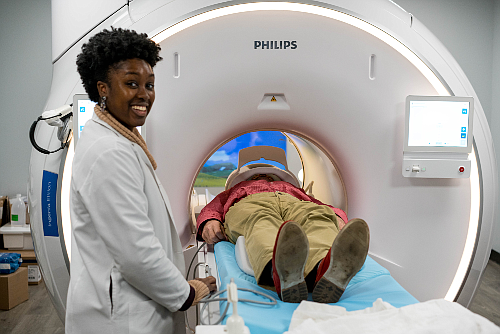 After taking a hit during the initial Covid-19 lockdown, Sawtelle-based RadNet Inc., the nation's largest operator of stand-alone diagnostic imaging centers, is revolutionizing the industry through its use of artificial intelligence and joint ventures with hospital networks.

RadNet, which provides the full slate of imaging services from mammograms and ultrasounds to MRIs and CT scans, got slammed in the spring of 2020 as the Covid pandemic hit, and hospitals were ordered to suspend all nonessential services. Revenue plunged 78% in April 2020 compared to the previous April and took several months to come back to pre-pandemic levels.

But instead of just returning to its pre-pandemic ways of doing business, RadNet took the opportunity to consolidate operations and start retooling its imaging services for the digital age. The company closed down dozens of imaging centers — mostly those operating in proximity to other RadNet centers — and laid off roughly 375 employees.
Then, the company introduced two new technologies to its mammogram services, which constitute roughly 18% of its overall business. The first was a form of 3D imaging called tomosynthesis, which allows for higher resolution images, particularly of dense breast tissue that previously yielded ambiguous images requiring follow-up diagnostics.

The second technology came through RadNet's spring 2020 purchase of Cambridge, Mass.-based DeepHealth Inc. in a stock transaction valued at $50 million. DeepHealth had developed technology that uses artificial intelligence, or machine learning algorithms, to recognize suspicious masses in mammograms that could indicate breast cancer tumors.

Over the next year, RadNet prepared to integrate this new technology into its mammogram imaging operations and then, in April, received approval from the Food and Drug Administration to begin rolling out the technology to all of its 350 imaging centers.

Mark Stolper, RadNet's chief financial officer, said these two technologies — particularly the AI — are not aimed at fully automating the mammography process, but rather at improving both the accuracy and speed of radiologist interpretations of the images. AI also allows for earlier detection of cancerous tumors than is typically possible with radiologists eyeing the images.

"The AI tool is a workflow tool that separates scans: one for no pathology results and the other that finds suspicious things," Stolper said. "That alerts the radiologist to look at the second set of scans very carefully. "We are not viewing these AI tools as replacing radiologists, but rather making them more productive and also — and this is very important — more accurate."

He noted that replacing radiologists completely is not possible anyway because of laws requiring radiologists to approve every diagnostic image.
Eventually, Stolper said, the company intends to apply the AI technology to detect cancerous tumors in the lung, prostate and colon. Several years down the road, he said, it might be possible to use the technology for virtual colon imaging that could eliminate the need for highly invasive colonoscopies.

Expanding network
Meanwhile, RadNet has been steadily increasing the number of screening centers it operates in joint ventures with hospitals and other medical practices.
Until now, RadNet has grown primarily through acquiring existing stand-alone imaging practices in the few key states it operates in, including California, New York, Maryland, New Jersey, Delaware and Florida. The strategy has been to focus on becoming the dominant player in these states rather than trying to open imaging centers in every state, Stolper said.

"When you're the dominant player in a particular market, that gives you efficiencies of scale and more negotiating power with hospitals and health system payors," he said.
This strategy has worked well for RadNet, Stolper said, because the diagnostic imaging industry is quite fragmented with few major players and lots of individual imaging centers or small chains of centers. So, it's not difficult for a well-capitalized company like RadNet to come in and, through a handful of acquisitions, become the dominant player in a particular statewide or regional market.

But in recent years, RadNet has implemented a new expansion strategy through joint ventures with hospitals and other major health providers.
Over the last few years, hospitals have come under increasing pressure from insurers to offload expensive radiology and other imaging operations, according to Brian Tanquilut, healthcare services equity analyst in the Nashville, Tennessee office of New York-based Jefferies.

"Insurers — starting with UnitedHealth three years ago and spreading to other insurers — have decided not to reimburse at the full patient rate charged at hospital run/owned imaging centers," Tanquilut said. "As a result, we're now seeing market share shift out of hospitals into freestanding imaging centers that charge less per image."

But, he said, hospitals have been reluctant to give up all the revenue their imaging centers have generated over the years — mostly through reimbursements. Instead, they have been negotiating joint venture agreements with RadNet and other operators of freestanding imaging centers.

"These joint ventures are advantageous to both parties: hospitals get a stake in these imaging operations, which gives them a revenue stream, and companies like RadNet get to have hospitals steer patients to them," he said.
Tanquilut said that a more traditional method of just contracting out the imaging services is not available to hospitals because of laws prohibiting hospitals and other healthcare providers from paying for referrals out of concern the practice could evolve into illegal kickback schemes.

In the last few years, RadNet has reached agreements for 20 of these joint venture arrangements with hospital networks, including Beverly Grove-based Cedars-Sinai Health System, Fountain Valley-based MemorialCare Health System, San Francisco-based Dignity Health and RWJ Barnabas Health Inc. of West Orange, New Jersey.

In October 2020, for example, RadNet completed a joint venture deal with DignityHealth in the Phoenix market that gave RadNet its first foothold in Arizona.
While RadNet's focus has been on these joint venture deals, it is still in the market for traditional acquisitions.

"We're prepared to do some bigger acquisitions as we've deleveraged the company over the past couple years," Stolper said. "We now have $150 million cash on hand on our balance sheet and a $195 million revolving credit facility, which gives us the financial capacity for bigger deals. We're just looking for the right opportunities."
But even as it pursues this aggressive growth strategy, RadNet must still be wary of potential dips in its existing business as repeated Covid waves sweep through the nation, Tanquilut said.
 
"Covid is still in the background," he said. "There is potential headwind in people's willingness to see doctors and get these routine, non-Covid screenings."
For reprint and licensing requests for this article, CLICK HERE.