Senior Health Services Coordination Firm HeyRenee Raises $8M in Pre-Launch Funding
Monday, January 17, 2022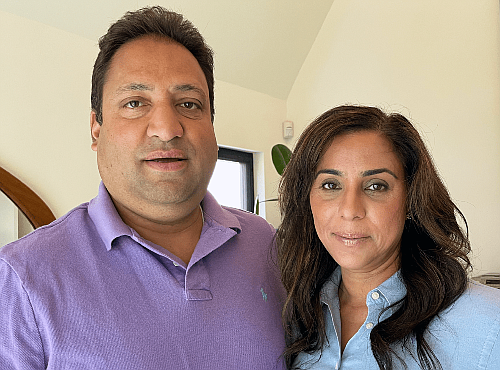 Santa Monica-based digital health startup SixD Inc., which does business as HeyRenee, announced Jan. 13 that it had closed a second round of seed funding, bringing its total amount raised to $8.2 million as it prepares to launch its senior-oriented service next quarter.

HeyRenee was started last summer by Nick Desai and Renee Dua, the husband-and-wife team that in 2014 founded Sawtelle-based doctor house call and telehealth firm Get Heal Inc., which now does business as Heal. In starting HeyRenee, Desai and Dua were joined by a third co-founder, Alexandra Cohen.

Separately, HeyRenee announced last month that it had been selected as one of 15 digital health startups to participate in the Department of Health and Human Services' Pandemic X Accelerator program designed to address health inequities and deploy resources to mitigate the effects of the Covid-19 pandemic. The startup company participants will go through four months of curriculum, mentorship and exhibition events to produce avenues of growth and third-party collaboration.

HeyRenee is developing a digital health resource platform to coordinate among the various providers involved in delivering health care to elderly patients, underserved populations and to people with chronic conditions. Desai and Dua liken HeyRenee to a "personal care concierge" for senior citizens and other underserved populations.
The aim, according to the couple, is to improve health outcomes and make health care easier for seniors and underserved populations to access. This in turn reduces the need for expensive acute care — often in the emergency room — later on.

According to Desai, HeyRenee is targeting health care payors — including insurance companies and self-insured employers — as its main paying client base.
"These entities have the greatest incentive to improve health outcomes and lower healthcare costs," he said.

HeyRenee had previously raised $3.8 million last year, led by San Francisco-based venture capital firm Quiet Capital Management, with participation from Santa Monica-based Mucker Capital; Westwood-based Fika Ventures; Palo Alto-based Tau Ventures; Berlin, Germany-based Global Founders Capital; and Bethesda, Md.-based SaaS Venture Capital.

This latest round of $4.4 million in seed funding announced last week included follow-on financing from all six of these firms — again led by Quiet Capital — plus first-time funding from New York City-based City Light Capital.

"U.S. health care desperately needs scalable, cost-effective, whole person digital care coordination," Morgan Livermore, partner at Quiet Capital, said in the fundraise release. "(Desai and Dua's) backgrounds in innovating healthcare technologies and their commitment to ensuring quality care are ideal for delivering a solution that empowers all healthcare stakeholders to collaborate and improve patients' health."
For reprint and licensing requests for this article, CLICK HERE.