Autonomy Turns to Tesla to Launch Subscription Service
Monday, January 24, 2022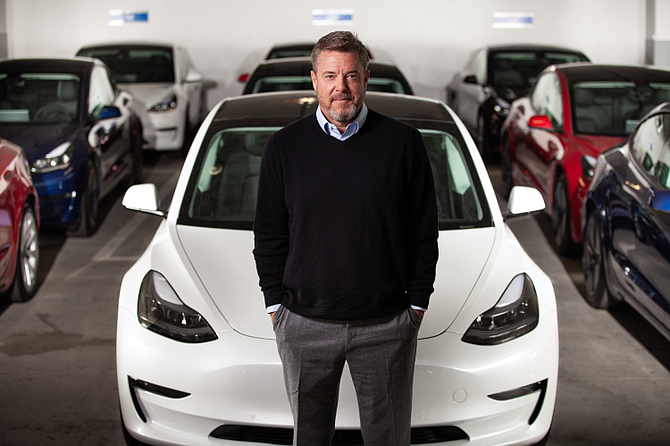 Scott Painter's betting on Tesla. His Santa Monica-based company — NextCar Holding Co. Inc., doing business as Autonomy — which specializes in offering short-term vehicle subscriptions, will focus on providing the popular Model 3 to consumers in the Los Angeles area.
 
"If you wanted to buy that car today, you could buy (it or lease it) from Tesla, but you have to wait for a year," Painter said. "You'd also have to commit to a 36-month lease. Our subscriptions are month-to-month … We'll handle all the title, registration, roadside assistance, and the cars come with a full bumper-to-bumper warranty."

The Santa Monica-based company has about 100 new Model 3s available for lease and plans to add another 9,900 to the subscription pool by year end.
With each car costing about $50,000, the total investment will add up to about $500 million and is poised to generate $200 million in annual revenue, according to Painter.
"It's a pretty big idea, but I think our decision to focus on electric cars and to launch with only Tesla is something we're pretty excited about," he said.

Painter co-founded Autonomy last year with Georg Bauer. The company has 70 employees and has raised $85 million in equity funding to date. It also has secured a line of credit to fund vehicle purchases.
Initially, Painter's plan was to partner with local auto dealers to show available vehicles to consumers visiting Autonomy's website or app, but then he pivoted to Tesla's fleet sales.

"It turns out that as a fleet buyer, when you stop worrying about the particular configuration, or the color, or the wheel combination, we're able to go ahead (of the 60,000 people on the waitlist) and access vehicles," Painter said.
The company plans to add other Tesla models down the line and potentially EVs from other car manufacturers.
 
"I think that what we're focused on is electric vehicles that have a lot of demand, that are very popular," Painter said. "But out of the gate, we're starting with the Model 3 only."
For reprint and licensing requests for this article, CLICK HERE.