Covid, Airline Challenges Drive Up Demand for Business Jet Flights in LA
Monday, January 24, 2022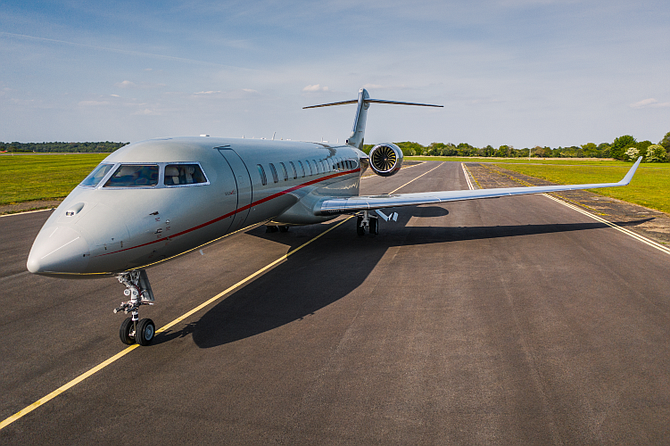 Local demand for business jet flights spiked during the last two months of 2021, a likely result of an increase in infections from omicron variant and the onslaught of delays and cancellations of commercial flights across the nation.  

Flight data collected by WingX, a Germany-based aviation data analysis firm, shows that there were 15,980 business jet departures from Van Nuys, Los Angeles, Burbank, Ontario and Santa Ana airports from Nov. 1 to Dec. 31, which is 55% more than during the same period in 2020 and 25% more than during the less-volatile 2019. A similar scenario played out with arrivals to local airports, which added up to 15,717, representing a 54% jump from 2020 and 25% increase from 2019.

"My personal perception is that it at least 80% (of the increase in traffic), if not more, is due to Covid," said Ed Story, a management consultant and pilot who sits on the boards of the California Pilots Association and the Santa Monica Airport Association. "There is obviously an increase in convenience by going via small jet to where you need to go — you can schedule your departure and your arrival separate from commercial airlines' schedules, so that is always a factor. But the substantial increase in traffic for smaller jets to take people on a point-to-point basis within their schedule I think is largely due to the concerns over Covid, and probably concerns over difficulties at major commercial airports."

Story added that flight cancellations were also a factor.
"I don't want to be too tough on commercial airports, but (they) have a lot of difficulties today keeping passengers apart from each other or dealing with the (TSA-related) slowdowns and legitimate security concerns," he said.

Story said that increased demand for business jet flights, coupled with the rising cost of fuel and a shortage of pilots, will likely also result in fewer deals on monthly or annual fees companies pay to use the services.

"When an operator or a business sees that their sales are going up, they are little less likely to feel pressure to bring the cost down," he said.

Local demand
Business jet departures from Los Angeles International Airport totaled 2,546 during the last two months of 2021, which was 86% more than in November and December of 2020. The airport recorded 2,466 arrivals, an 81% improvement over 2020.
Van Nuys Airport, home to Clay Lacy Aviation, Pegasus Elite Aviation and Castle & Cooke Aviation Services, handled the most business jet flights during the holiday months out of the L.A.-area airports, processing 6,560 departures and 6,448 arrivals.
Both metrics were up 44% compared to the same period in 2020, and 30% compared to 2019.
Bob Hope Airport in Burbank logged 2,229 departures and 2,227 arrivals in November and December, a 74% and 78% uptick compared to same period in 2020, respectively. However, both departures and arrivals were down in low single digits when compared to the end of 2019.
 
VistaJet U.S. Inc., a New York City subsidiary of Malta-based aviation company VistaJet Group Holding is among several companies that pick up passengers at all three airports.
"Across the board we are seeing an uptick in demand for private aviation, and the Los Angeles area is no exception," President Leona Qi said via email. "From November to December 2021, we had a 21% increase in flights in and out of Los Angeles."

Qi added that the number of touchpoints significantly decreases when flying private — 20 interactions as opposed to 700 when flying with commercial airlines. That perceived safety factor might explain why 71% of VistaJet's incoming requests these days are for flights from passengers who have not regularly used private aviation before.

"We expect the increased number of first-time private flyers to keep growing in 2022 and beyond as travelers are looking for more safe and reliable flight solutions," she said.

Longer trips
Qi also noted that over the past year, VistaJet saw a demand for longer-range flights in and out of the Los Angeles area, which prompted the company to add a fleet of Global 7500 aircraft, "one of the fastest and longest-range aircraft available in the market."
 
"In November and December some international pairings on the Global 7500 to and from Los Angeles were: London, Tokyo, St. Maarten and Prague," Qi said.

Hawthorne-based Advanced Air maintains and operates a fleet of two dozen planes that customers can charter and uses those planes for scheduled service flights on which customers can buy seats. The company also operates flights for Hawthorne-based Surf Air Mobility Corp. and Taos Air, owned by Taos, N.M.-based Taos Ski Valley Inc.

"We operate both commercial and chartered flights, (and) when you combine both businesses, we're seeing departures up 44% from the same time period in 2020 and up 25% from the same time period in 2019. Charter hours are up 36% from 2019 and 64% from 2020," Advanced Air Vice President of Business Operations Barbara Hunt said via email. "We're hearing from customers that they want to avoid large crowds and touchpoints that come with commercial airports and airlines."

Sudhin Shahani, co-founder and chief executive of Surf Air, hesitated to give all the credit for increases in traffic to the pandemic.
"Surf Air is seeing several factors contribute to the month-over-month increases in both flights and passenger count," Shahani said via email. "We believe our customers' desire to fly affordable scheduled service out of smaller, regional airports and a more decentralized workforce has increased demand, which we expect will continue even as the pandemic wanes."


For reprint and licensing requests for this article, CLICK HERE.