Parallel Systems Raises $50 Million in Series A
Monday, January 24, 2022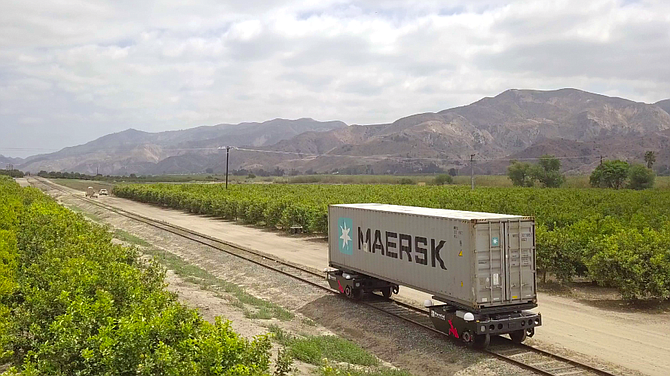 Parallel Systems, an electric rail vehicle maker founded by three SpaceX veterans, picked up nearly $50 million in Series A funding last week. The investment, led by Anthos Capital in Santa Monica with contributions from Congruent Ventures, Riot Ventures and Embark Ventures, will be used to build a fleet of rail vehicles, complete testing programs and grow the team, according to the Culver City-based company.

"What we're doing right now is we are fabricating our second-generation vehicles, and we're launching an advanced test program that's really going to answer a lot of key questions that will lead us down the path to commercialization," said Chief Executive Matt Soule, who was head of avionics at SpaceX before co-founding Parallel Systems with John Howard and Ben Stabler, former SpaceX coworkers. Howard now serves as the vice president of hardware for Parallel Systems, while Stabler is the vice president of software.

To implement the testing program, the founders are planning to scale their team from 25 to about 85 in the next 12 to 18 months and hire "a lot of software and hardware engineers," added Soule.

Soule got the idea for the company after watching a video "of a freight train just barreling through the Midwest" before a meeting a friend for coffee "and we got to talking about it."

"We started looking at the industry and we realized there was this real opportunity to revisit how is rail infrastructure being used," he said. "Freight trains, where it makes sense to operate them, they are very good at what they do. They're very energy-efficient, but the scale of their operation limits the markets they have access to. So, what we ended up focusing on (is), 'How do we address some of the limitations so that rail can serve more markets?' … But we think it's key that you leverage the infrastructure that's already there."

Parallel Systems' rail cars do not need a locomotive — they are autonomous and individually powered, featuring a battery-electric permanent magnet synchronous motor and a bidirectional camera-based perception system. They also have redundant braking that enables them to stop up to 10 times more quickly than a train, according to the company.
 
The rail cars travel up to 500 miles before needing an hourlong charge and can transport standard shipping containers as a single- or double-stacked load. They can also be grouped into "platoons" to move cargo together or split off while en route and head to different destinations.
 
These features, according to the company, are poised to provide more responsive service than traditional freight rail, especially when it comes to congestion at seaports where shippers depend heavily on trucks to pick up cargo containers.
The shorter rail car configurations also require smaller rail terminals, which can be constructed closer to shippers and warehouses, opening up new markets for rail and reducing last-mile delivery costs, according to the company.

"We look at this as we're not displacing existing rail business and converting it to this; we're taking trucking activity, which has a massive driver shortage right now, and we're moving that to rail," Soule said.

Parallel Systems is also working on software that will allow its platoons to safely integrate with the traditional passenger and freight trains. The company has an office in Palo Alto and a closed test track near its headquarters in Culver City.
 
The timeline to widespread adoption of Parallel Systems' rail cars is hard to  pinpoint without getting through this key testing the company is currently conducting, but Soule said, "We think it is within years, not decades." 
For reprint and licensing requests for this article, CLICK HERE.