Virgin Orbit Aims for Larger Market Share Amid Successful Missions
Monday, January 24, 2022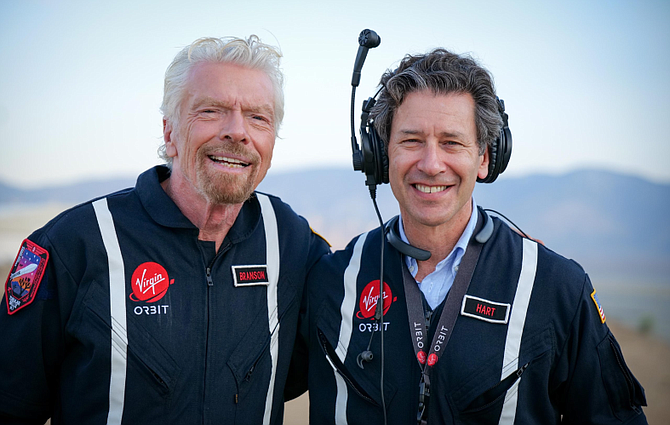 Long Beach-based rocket manufacturer Virgin Orbit Holdings Inc. completed its third successful mission January 13th,  sending seven satellites into orbit aboard a rocket launched from the wings of a Boeing 747.

It was the first launch since the company made its stock market debut on the second-to-last day of 2021 and provides further proof that Virgin Orbit is ready to compete for market share in an increasingly crowded industry.

Chief Executive Dan Hart said the mission was also the first in which Virgin Orbit has carried satellites on behalf of repeat customers and that the company had managed to deploy those satellites in an orbit normally unreachable with a West Coast liftoff.
Hart said in a statement that the latest launch "confirms the team's ability to provide top-tier launch service anywhere, anytime."

Laura Forczyk, owner of space industry consulting firm Astralytical, said the fact that Virgin Orbit has been able to demonstrate the viability of its LauncherOne rocket puts it well ahead of many would-be competitors.
"A lot of these small satellite launchers are just not operational yet," said Forczyk. "Virgin Orbit has actually proven that they can launch things."

Small launch competitors
While aerospace heavyweights like Hawthorne-based Space Exploration Technologies Corp. frequently deploy dozens, or even hundreds, of satellites at a time, a crop of startups has emerged in recent years with a focus on smaller launch vehicles that offer customers a more customizable way to put things into orbit.

Rocket Lab USA Inc., also based in Long Beach, has been the most visibly successful of these companies so far — though it experienced a high-profile mission failure last year that interrupted a string of six successful launches prior to that.
Both Rocket Lab and Virgin Orbit went public in 2021 via reverse mergers with special purpose acquisition companies, or SPACs.
 
Alameda-based Astra Space Inc. also completed a SPAC merger last year and completed its first successful launch in November.
Forczyk said these three companies should have an advantage when it comes to building a base of customers because they are already operational. But more competitors, including Long Beach-based Relativity Space Inc. and El Segundo-based ABL Space Systems, are waiting in the wings.

"Everyone believes there are too many small launchers in development right now," Forczyk said. "There's a lot of pent-up demand, but if all these rockets succeed, the supply will outstrip that demand.

This level of competition may be making investors skittish. When Virgin Orbit announced plans for its SPAC merger, the company projected the deal would produce $483 million in capital for its continued growth. By the time the merger was completed, however, that figure had fallen to $228 million, suggesting that a high number of shareholders chose to redeem shares in the SPAC prior to the combination.

Caleb Henry, a senior analyst at Quilty Analytics, said underwhelming market debuts for aerospace companies going public via SPAC mergers have not been uncommon. Still, he said, this puts additional pressure on companies like Virgin Orbit to secure customers for future launches.

"It's going to take a lot of time and patience for these companies to get close to their market projections," said Henry. "And a lot of companies have put unrealistic projections into the market."

Unique technique
Virgin Orbit's unusual launch technique, in which rockets are jettisoned from an airplane and ignited mid-air, could be a selling point, said Henry.
Most rockets are launched from a dedicated launchpad — something that can be found at only a handful of facilities around the world. Because Virgin Orbit's rockets aren't launched from a pad, however, the company can feasibly carry out missions using runways that already exist at airports all over the globe.

"Virgin has been working on partnerships with airports, and the more partnerships they create, the more sites they can launch from," said Henry. "Because there are so many more airports than spaceports, (Virgin) has more flexibility about where they launch."

The company points to this flexibility as an important differentiating factor between its services and those provided by competitors. In theory, it means the company can launch missions at a moment's notice on behalf of government customers with tight timelines.

Facilitating these launches is the company's El Segundo-based subsidiary, Vox Space. The company leverages Virgin Orbit's technology to provide analytical services and arranges launches for national security agencies in particular.
Following Virgin Orbit's latest launch, Vox Space president Mark Baird said the flight offered a demonstration of "the future of space launch capabilities" for national security missions.

"We have the ability to launch anywhere, anytime and unwarned, which allows us to customize the launches to serve a government's mission and goals," Baird said in a statement.

So far, all of Virgin Orbit's rocket launches have been initiated at the Mojave Air and Spaceport, just over 100 miles from the company's Long Beach office. Still, Virgin expects to complete a launch in the U.K. this year and has said launches in Japan, Brazil and Australia may also be upcoming.

Having the ability to launch from so many locations could also eventually help the company complete missions at a faster rate than its competitors, though Henry noted that, for most rocket manufacturers, scaling up in order to accelerate the rate of launches has proven to be a significant challenge.

Virgin Orbit has acknowledged that it will take time for the company to build its business to the point where it is able to generate enough income to offset the massive cost of building and launching rockets. In its October analyst day presentation, the company projected that it would be cash positive in 2024, with revenue expected to grow from an estimated $15 million in 2021 to more than $900 million over that period.
Still, Henry said it's difficult to predict much with certainty in the volatile space industry, in which market conditions and the needs of customers are changing rapidly.

"Virgin has to look at this market and figure out if they can capture enough demand to stay afloat," Henry said. "Everyone has that threshold of how many launches they need, and all these companies are going to be fighting for that."
For reprint and licensing requests for this article, CLICK HERE.